Call of Duty 2020 will be revealed in Warzone, Activision suggests
"It's going to be very different and more engaging than anything we've ever done before"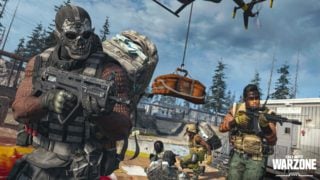 Activision has given the clearest indication yet that Call of Duty 2020 will be announced via free-to-play battle royale game Warzone, as previously reported by VGC.
The publisher confirmed on Tuesday that Treyarch and Raven Software are developing Call of Duty 2020, which is scheduled to launch later this year.
Asked about plans to reveal the game during its second quarter earnings call, Activision president Robert Kostich said: "All I can say in terms of timing is I expect you'll be hearing more about this fairly soon."
He added: "Warzone has caused up to rethink how, when and even where we reveal our upcoming titles, so we can't wait to share with the community and we think it's going to be very different and more engaging than anything we've ever done before."
Earlier on Tuesday Activision detailed Call of Duty Warzone's Season 5 update ahead of its August 5 launch, including confirmation of a "mid-season event."
In May Warzone kicked off a meta-game which sources indicated would conclude with the unveiling of the next premium Call of Duty game, Black Ops: Cold War.
Developer Infinity Ward recently confirmed that Warzone will tie in with other Call of Duty games beyond Modern Warfare, something Kostich elaborated on in Tuesday's earnings call.
"On your question of how we're going to integrate the new title with Warzone, I think that's a good one and it's an important one, and what you should expect is that we build very tight integration between the two.
"Modern Warfare and Warzone are obviously very tightly connected, I think that's really important to the player base, and we plan to do the same with all our upcoming titles as well, our premium titles, to ensure that we can reward all of our players and give them fresh new experiences regardless of whether they choose to just play in Warzone or also play the premium game as well, so the connection will absolutely be there."
Activision also announced on Tuesday that Call of Duty: Warzone has attracted over 75 million players since releasing in March 2020, and Call of Duty Mobile has surpassed 250 million downloads since releasing in October 2019.