Bungie details Destiny 2's Content Vault
Raids, strikes and more moving into Content Vault in November, with new areas cycled in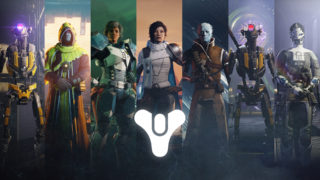 Bungie has detailed which Destiny 2 content will be moving into its Content Vault when Year 4 begins later this year.
Starting on November 10, certain game locations and related content will move into the Destiny Content Vault (DCV). This will help Bungie manage and support the game, it said in June, with the plan being to cycle out older content and reintroduce it at later dates.
In November Io, Titan, Mars, Mercury, and Leviathan will all enter the Destiny Content Vault to make room for Cosmodrome's return and Europa's debut.
Available PvP Maps on November 10
Destiny
Bannerfall
Exodus Blue
Rusted Lands
Twilight Gap
Destiny 2
Altar of Flame
The Anomaly
The Burnout
Cauldron
Convergence
The Dead Cliffs
Distant Shore
Endless Vale
The Fortress
Fragment
Javelin-4
Midtown
Pacifica
Radiant Cliffs
Widow's Court
Wormhaven
Moving into the DCV
Meltdown
Solitude
Retribution
The Citadel
Emperor's Respite
Equinox
Eternity
Firebase Echo
Gambler's Ruin
Legion's Gulch
Vostok
This means that the free-for-all-players campaigns Red War, Curse of Osiris, and Warmind will no longer be playable. Instead, Bungie said on Thursday it's building an "expanded Guardian origin story" on the Cosmodrome that will launch alongside Year 4.
The rule of thumb is, "When a destination goes into the DCV, so too do its PvE activities and associated rewards," the developer said. But there are some "edge cases" where this does not apply.
In terms of strikes, the "rule of thumb" applies and all activities on the removed planets above will also be vaulted.
For crucible, a curated "best of" mix and will be pulled from both Destiny 1 and 2's legacy, Bungie said.
Bungie said it's also taking the opportunity to "focus" the Crucible experience by reducing the number of PvP playlists and modes to those that receive the most play. This means removing Supremacy, Countdown, Lockdown, Breakthrough, Doubles, Momentum Control and Scorched.
Finally, no dungeons will be rotating into the DCV this November, but five Raid areas will be vaulted: Leviathan, Eater of Worlds (Leviathan), Spire of Stars (Leviathan), Scourge of the Past (Last City) and Crown of Sorrows (Leviathan).
The launch of Beyond Light, which is the first in a trilogy of new expansions, was recently delayed from September to November 10, with Bungie citing challenging working conditions during the Covid-19 pandemic.
Destiny 2 will be available via Xbox Game Pass from September.
Game Pass subscribers will receive access to the standard edition of each expansion (seasonal content sold separately), starting with Forsaken and Shadowkeep in September, followed by Beyond Light in November.