Bugsnax coming to Xbox Game Pass and Nintendo Switch later this month
The game will include The Isle of Bigsnax expansion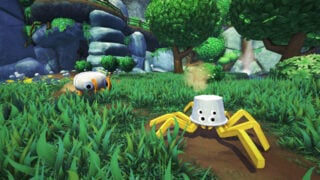 Bugsnax is coming to Xbox Game Pass and Nintendo Switch later this month.
The previously console-exclusive bug-collecting game will come to the new platforms on April 28.
When Bugsnax arrives on the new platforms it will include The Isle of Bigsnax, a new update that adds a new playable area and several new creatures to collect.
At launch, Bugsnax will cost $24.99 / £17.99 on Nintendo Switch, Xbox Series platforms, Windows 10 and Steam. Bugsnax will also come to Game Pass on Xbox, PC and Cloud.
According to developer Young Horses, the game will run at 720p at 30 frames per second in both handheld and docked modes of the Nintendo Switch. The Nintendo Switch version also won't feature gyro aiming.
The new update, The Isle of Bigsnax will also feature new trophies and achievements following a fan campaign to include them in the update.
Bugsnax launched in 2020 at the launch of the PlayStation 5 and was met with warm critical and fan reception. It currently holds a 75 on the review aggregator Metacritic. 
Our preview of The Isle of Bigsnax called it "exactly the excuse we needed to revisit one of the most charming games in years."
We wrote: "While the expansion doesn't revolutionise the Bugsnax formula, the new catching mechanics, and crucially, the new narrative elements, which were also Bugsnax's secret sauce, have us excited to dig in when the expansion is served up at the end of April.
"And now that it'll be coming to Xbox and Nintendo Switch for the first time, including the expansion, it's the perfect time to experience the game."