Borderlands 3 will include 'cosmetics' microtransactions, 2K clarifies
"None of these purchases would be considered pay-to-win"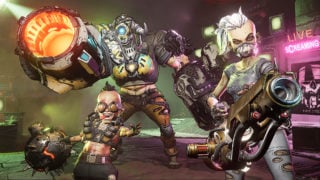 2K games has clarified its microtransaction plans for Borderlands 3, revealing that the Gearbox-developed loot shooter will indeed feature paid content.
"Players will have the option to purchase certain cosmetic items like character, vehicle, and weapon skins, but none of these purchases would be considered pay-to-win or impacting on the gameplay, like weapons or actual gear," the publisher said in a statement.
At Borderlands 3's live stream reveal on Wednesday, Gearbox CEO Randy Pitchford had told attendees during an on-stage presentation that Borderlands 3 "won't have microtransactions."
"We've made a commitment to the story, style, and design that our fans have told us loud and clear that they cherish and want us to preserve," Pitchford said.
Following the presentation, creative director Paul Sage clarified that Pitchford was referring to how players would not be able to buy weapons, gear, or anything that affects gameplay with real world currency.
"We're selling cosmetic items, but we're not going to nickel and dime players," Sage told Game Informer. "DLC will come down the line, but the game won't have anything excessive."
Announced in March, the PS4, Xbox One and PC sequel sees players battling against the Calypso Twins, a pair of villains who are uniting the bandit clans and "attempting to get their hands on the galaxy's ultimate power".
Gearbox has confirmed a Borderlands 3 release date of September 13, 2019. On PC, the game will be available exclusively through the Epic Games store until April 2020.