Borderlands 1 remaster announced, releasing April 3
The first game in the series has been updated for consoles and PC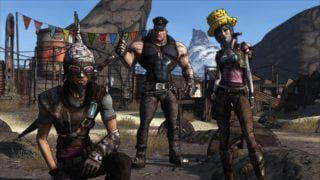 Gearbox Software has announced that a remastered version of the original Borderlands is set for release on PS4, Xbox One and PC on Wednesday April 3.
Titled Borderlands Game of the Year Edition, it promises to deliver improved character models, environments, weapons and textures, alongside new weapons and loot.
An update on the official Borderlands site reads: "Discover the co-op shooter-looter that started it all, crammed with content and enhancements. Equip bazillions of guns as one of four trigger-happy mercenaries, each with unique RPG skills.
"Take on the lawless desolate planet Pandora in pursuit of powerful alien technology: The Vault. With new weapons, visual upgrades, all four add-on packs and more, play solo or in four-player split screen co-op."
Borderlands Game of the Year Edition was announced during a PAX East 2019 session, which Gearbox also used to officially reveal the long-rumoured Borderlands 3 with a lengthy trailer.