Blood Bowl 3 developers apologize for server issues and in-game shop concerns
"We truly believe that our system is fair, rewarding and optional"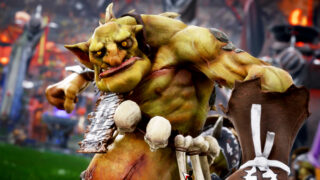 Blood Bowl 3 developer Cyanide Studios has apologized for server issues and controversy over the game's monetization in a lengthy blog post.
The post, which starts by thanking the players who've supported the game, goes on to acknowledge a suite of issues, which have been reflected in the game's poor Steam reviews.
At the time of writing, the game holds a 74% disapproval rate from around 900 reviews.
"We know there are some features missing that players expect, being able to reconnect in a game for example, and we are working hard to get those features added," reads the statement.
"The functionality of the game is our main priority and rest assured we will do our best to address any bugs or broken elements as soon as we can."
The statement also addressed the instability of the servers, an issue that has plagued the game since the beginning of the early access period.
"We'd also like to take this opportunity to apologize for the server issues leading up to and during the launch. This has been our main concern since the start of the Early Unlock. Since yesterday's patch, our servers are more stable."
The update then addressed the monetization issues that have caused a large portion of the negative reviews.
"We'd like to talk about monetization and appreciate this is a sensitive topic among the community. This is something we tried to communicate ahead of the launch, but we intend to implement features allowing players to be rewarded either with cosmetic items or Warpstone through play as well as purchase.
"We know that we will probably not be able to convince all of you but we truly believe that our system is fair, rewarding and optional and that's understandable."
The final in the long list of issues addressed in the statement was an error that saw players who purchased the standard version of the game receiving the Brutal Edition, which included extra in-game items.
"This error is really unfortunate but we don't want to punish players for the mistake. With that in mind, we will not remove the 1000 Warpstone players who hadn't purchased the Brutal edition received. However, we will have to remove the cosmetic bonuses that are only available to players of the Brutal Edition."
In addition to this, players who intentionally purchased the more expensive Brutal Edition will be credited with more items to apologize for the mistake.
"We'd also still like to further reward players who brought the Brutal Edition to apologize for the mistake
"We will credit 1,000 Warpstone to all Brutal Edition players and an additional 250 Warpstone to Early Unlock players for their troubles.
"This way, Brutal Edition players will still have a 1,000 Warpstone bonus. With this bonus and yesterday's compensation, this will make a total bonus of 1,500 Warpstone for the Early Unlock players, which we hope seems fair.
"We understand this does not solve everything, but we hope that it will at least ease this feeling and show our gratitude. We will always follow this policy with our community."