Blizzard president 'accepts accountability' for Hearthstone Hong Kong controversy
"We will do better going forward, but our actions are going to matter more than any of our words"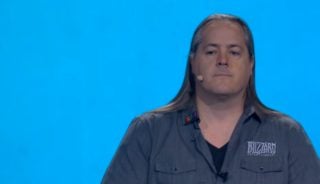 Blizzard president J. Allen Brack opened BlizzCon 2019 with an apology for the way the company handled the recent Hearthstone esports controversy.
The company came under fire for banning several Hearthstone esports players who expressed support for Hong Kong's pro-democracy movement during tournaments in October.
"Blizzard had the opportunity to bring the world together in a tough Hearthstone esports moment a month ago and we did not," Brack began. "We moved too quickly in our decision-making and then, to make matters worse, we were too slow to talk to all of you.
"When I think about what I'm most unhappy about, it's really two things. The first one is, we didn't live up to the high standards we really set for ourselves. And the second is, we failed in our purpose. And for that, I am sorry, and I accept accountability.
"So, what exactly is our purpose? BlizzCon is demonstrating it even as we speak," he continued. "We aspire to bring the world together in epic entertainment, and I truly believe in the positive power of video games.
"When we get it right, we create a common ground where the community comes together. To compete, connect and play, irrespective of the things that divide us. As an example, BlizzCon has people from 59 countries all around the world here at the show today, and that is the positive power of video games, to transcend divisions that surround us in so many of our places today.
"We will do better going forward," Brack promised, "but our actions are going to matter more than any of our words. As you walk around this weekend, I hope it's clear how committed we are to everyone's right to express themselves in all kinds of ways in all kinds of places."
In response to Blizzard's recent actions, digital rights non-profit organisation Fight for the Future is staging a protest outside the Anaheim Convention Center on Friday.
"I've actually heard and seen many of you expressing yourself this morning," Brack's opening remarks continued in a conciliatory tone, perhaps referring to the protests at the show and eliciting some laughs from the audience.
"You use your vacation and your family time to be here in Anaheim with us and we are so grateful that you're here this weekend. Our best moments are here in our shared passion for Blizzard games.
"So once again, BlizzCon has brought us together, and today you're going to see a lot of the hard work of the Blizzard team."
Other Products
Some external links on this page are affiliate links, if you click on our affiliate links and make a purchase we might receive a commission.