Blizzard is compensating Overwatch 2 players with in-game items after launch issues
"When the launch is bumpy, you make it up to players"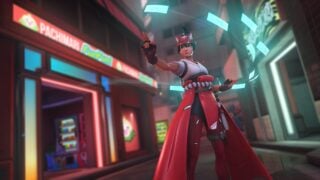 Blizzard has offered players some in-game items and Double XP weekends as a way of compensating them for issues during the launch of Overwatch 2.
In a message posted on the official Overwatch 2 website, Blizzard announced that it was giving away a Legendary skin, a Weapon Charm and "several double match XP weekends" to make up for the connection problems players were experiencing.
"Launching Overwatch 2 as a live service comes with amazing opportunities and challenges, both anticipated and unexpected," the message reads.
"We've largely stabilized the game overall, and we've made a lot of progress in fixing or improving issues some of you are facing. We're committed to consistently investigating issues as they arise, working quickly towards fixes, and being transparent with our community on the status of Overwatch 2.
Overwatch 2 launch trailer
"The team continues to work to deploy further stability updates, with another patch planned for later this week, and we are monitoring the game closely for emergent issues and bugs."
Discussing the compensation, it explained: "We apologise for any issues players experienced around the game's launch. To help make up for any lost time, we're planning to run several Double Match XP weekends: we will confirm the specific dates for these soon.
"We'll also be giving all players who log in from October 25 through to the end of Season One an all-new Cursed Captain Reaper Legendary skin and a Health Pack Weapon Charm. These items will become part of your collection from the first time you log in during that time window."
Blizzard has previously apologised for Overwatch 2's rocky launch and axed a policy requiring all players to have a phone number attached to their Battle.net account in order to access the game.
The game's launch issues were exacerbated by two distributed denial of service attacks, which had an impact on server reliability.
"While they did not directly cause any of these issues, they made the environment in which we work on these issues more challenging," Blizzard said. "We have not suffered any further attacks."