Blizzard insists China had 'no influence' in decision to ban pro-Hong Kong player
But Hearthstone firm admits it "reacted too quickly" as punishment reduced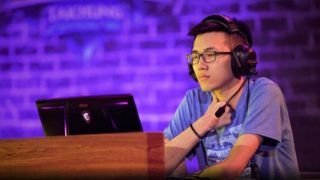 Blizzard has responded to the controversy surrounding the punishment of a Hearthstone esports player who showed support for Hong Kong during a tournament live stream.
Blizzard banned Ng 'Blitzchung' Wai Chung from its Grandmasters esports competition for 12 months and withheld $10,000 in prize money he had already won for saying, "liberate Hong Kong, revolution of our times" in a post-match interview on Sunday.
At the time, Blizzard said Chung's actions violated a competition rule prohibiting players from engaging in any act that "brings you into public disrepute, offends a portion or group of the public, or otherwise damages Blizzard's image".
The Overwatch publisher's decision attracted widespread condemnation, with critics accusing the company of censoring free speech so as not to damage its business interests in China. Notably Chinese tech giant Tencent owns a 5% stake in Blizzard's parent company, Activision Blizzard.
Some of Blizzard's staff staged their own protest this week in the form of a walkout.
On Friday Blizzard released a statement attributed to president J Allen Brack, in which he insisted Blitzcung's specific views were not a factor in its action.
"I want to be clear: our relationships in China had no influence on our decision," Brack said.
"We have these rules to keep the focus on the game and on the tournament to the benefit of a global audience, and that was the only consideration in the actions we took.
"If this had been the opposing viewpoint delivered in the same divisive and deliberate way, we would have felt and acted the same."
Acknowledging the outcry from fans and employees, the Blizzard president conceded that in hindsight the company "reacted too quickly" to Blitzchung's actions and confirmed that it will reduce his punishment.
"Over the past few days, many players, casters, esports fans, and employees have expressed concerns about how we determined the penalties," he said.
"We've had a chance to pause, to listen to our community, and to reflect on what we could have done better. In hindsight, our process wasn't adequate, and we reacted too quickly."
"I want to be clear: our relationships in China had no influence on our decision… If this had been the opposing viewpoint, we would have felt and acted the same."
He added: "We want to ensure that we maintain a safe and inclusive environment for all our players, and that our rules and processes are clear. All of this is in service of another important Blizzard value—Play Nice; Play Fair.
"In the tournament itself Blitzchung *played* fair. We now believe he should receive his prizing. We understand that for some this is not about the prize, and perhaps for others it is disrespectful to even discuss it. That is not our intention.
"But playing fair also includes appropriate pre-and post-match conduct, especially when a player accepts recognition for winning in a broadcast.
"When we think about the suspension, six months for Blitzchung is more appropriate, after which time he can compete in the Hearthstone pro circuit again if he so chooses. There is a consequence for taking the conversation away from the purpose of the event and disrupting or derailing the broadcast."
Brack confirmed Blizzard will continue to apply its tournament rules on "divisive social or political views" going forward.
"At Blizzard, we are always listening and finding ways to improve—it is part of our culture. Thank you for your patience with us as we continue to learn," he said.
A small number of Blizzard Entertainment employees staged a walkout on Tuesday over the company's decision to ban Blitzchung.
One Blizzard employee told Daily Beast: "The action Blizzard took against the player was pretty appalling but not surprising. Blizzard makes a lot of money in China, but now the company is in this awkward position where we can't abide by our values."
Another said: "I'm disappointed. We want people all over the world to play our games, but no action like this can be made with political neutrality."
Tim Sweeney, the CEO of Epic Games – in which Tencent holds a 40% stake – also entered the debate on Wednesday, tweeting: "Epic supports the rights of Fortnite players and creators to speak about politics and human rights."
Other Products
Some external links on this page are affiliate links, if you click on our affiliate links and make a purchase we might receive a commission.