Blizzard employees protest over banned pro-Hong Kong Hearthstone player
Publisher accused of censoring free speech to appease China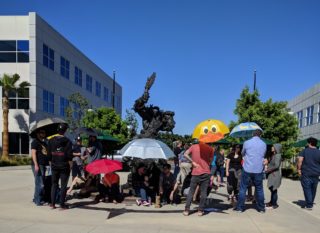 A small number of Blizzard Entertainment employees reportedly staged a walkout on Tuesday over the company's decision to ban a professional Hearthstone player who expressed support for Hong Kong's pro-democracy movement during an official livestream.
Blizzard banned Ng 'Blitzchung' Wai Chung from its Grandmasters esports competition for 12 months and withheld $10,000 in prize money he'd already won for saying "liberate Hong Kong, revolution of our times" in a post-match interview on Sunday.
The company said Chung's actions violated a competition rule prohibiting players from "engaging in any act that, in Blizzard's sole discretion, brings you into public disrepute, offends a portion or group of the public, or otherwise damages Blizzard image".
The World of Warcraft and Overwatch publisher's decision has attracted widespread condemnation, with critics accusing the company of censoring free speech so as not to damage its business interests in China. Notably Chinese tech giant Tencent owns a 5% stake in Blizzard's parent company, Activision Blizzard.
Some of Blizzard's staff staged their own protest this week in the form of a walkout, according to Daily Beast. The demonstration took place around a 12-foot-tall, wolf-mounted orc warrior statue in the courtyard of Blizzard's Irvine, California campus, with participation reportedly fluctuating between a dozen and 30 people throughout the day.
An image posted to Reddit purportedly shows several protesters holding umbrellas, a symbol of Hong Kong pro-democracy protests. The orc sculpture is encircled by a compass featuring Blizzard's "eight core values." Two of these, "Think Globally" and "Every Voice Matters," were reportedly covered up by employees.
One Blizzard employee told Daily Beast: "The action Blizzard took against the player was pretty appalling but not surprising. Blizzard makes a lot of money in China, but now the company is in this awkward position where we can't abide by our values."
Another said: "I'm disappointed. We want people all over the world to play our games, but no action like this can be made with political neutrality."
"It's a violation of free speech," Chung told Engadget. "I am pretty sure I won't get that kind of punishment if my speech was pro-China-government."
This view was echoed by Florida senator Marco Rubio, who tweeted. "Recognize what's happening here. People who don't live in #China must either self censor or face dismissal & suspensions. China using access to market as leverage to crush free speech globally. Implications of this will be felt long after everyone in U.S. politics today is gone."
Oregon senator Ron Wyden also said on Twitter: "Blizzard shows it is willing to humiliate itself to please the Chinese Communist Party. No American company should censor calls for freedom to make a quick buck."
A Blizzard spokesperson told Engadget the company is assessing the situation for now.
Tim Sweeney, the CEO of Epic Games – in which Tencent holds a 40% stake – also entered the debate on Wednesday, tweeting: "Epic supports the rights of Fortnite players and creators to speak about politics and human rights."
Related Products
Other Products
Some external links on this page are affiliate links, if you click on our affiliate links and make a purchase we might receive a commission.