Blind player tries out Forza Motorsport's Blind Drive Assist feature, wins a race using it
Steve Saylor demonstrates how the mode uses audio to guide players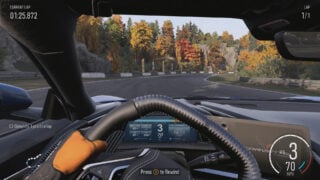 A legally blind player has released a video explaining Forza Motorsport's new Blind Drive Assist feature, and how it helped him win his first race.
Steve Saylor, who regularly posts videos looking at games from the perspective of a blind player and also does accessibility consultation work for game studios, showed the feature in his latest video.
Saylor has nystagmus, a condition that results in a repetitive and involuntary movement of the eyes, which affects his vision to the extent that he is legally blind.
However, as his video shows, the Blind Drive Assist feature in Forza Motorsport – which he says is the first of its kind in any racing game – provides audio cues to help him figure out the position of his car and upcoming turns.
Players will get an audio cue when they should brake, and when they should accelerate again, essentially acting as an audio version of the red, yellow and green racing line arrows that can be applied for turns.
There's also a voice telling the player about turns that are coming up, explaining whether they're turning to the left or right and how tight the turn is (similar to a co-driver in a rally game).
The game also adds other audio cues that beep when the player is about to approach a turn, when they're going into it, when they're at the apex of the turn and when they're coming out of it.
Another audio cue pans left and right in the player's ears to let them know where their car is positioned on the track.
Saylor notes that while these assists are all helpful, "it's not perfect and it has a major steep learning curve".
He explained that after his first race, in which he finished 21st, the experience was somewhat overwhelming.
"I couldn't make the turns correctly, I had difficulty knowing when was best to brake even with everything turned on. A lot was happening in my headphones, I had difficulty distinguishing which was which – it was just, honestly, a cacophony of sound."
However, Saylor explains that these new accessibility features, like any other option in the game, have to be tuned to best suit the player's requirements.
By tweaking the volume and pitch sliders for each cue, and turning down the engine and tyre volume, Saylor was able to distinguish between the cues better and was able to finish his next race in 4th place, then his third race in 1st place.
"It's further proof that accessibility isn't making the game easier for disabled players," he explained, "it's giving us the same challenge as everyone else and the right tools to play and actually get better."