Black Panther, Captain Marvel and Taskmaster join Fortnite
The Marvel Royalty & Warriors Pack costs £19.99/$24.99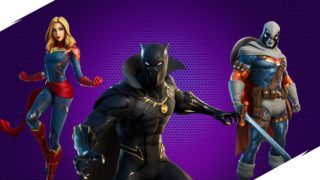 Epic Games has added Black Panther, Captain Marvel and Taskmaster in Fortnite's latest DLC pack.
The characters are available as part of the Marvel Royalty and Warriors Pack, which is priced at £19.99/$24.99 and detailed in full below.
All players can also now unlock the Wakandan Salute emote by completing Fortnite's new Wakanda Forever challenges before January 12.
Marvel Royalty and Warriors Pack
BLACK PANTHER
Black Panther Outfit With Kinetically Charged Style
Vibranium Daggers Dual Pickaxe
Wakandan Skyrider Glider
King Cowl's Back Bling With Kinetically Charged Variant Style
CAPTAIN MARVEL
Captain Marvel Outfit With Empowered Variant Style
Alpha Staff Pickaxe
Power of Mar-Vell Glider
Kree Backplate Back Bling With Empowered Style
TASKMASTER
Taskmaster Outfit
Mimic Shield Back Bling
Copycat's Sword Pickaxe
Epic launched Fortnite Chapter 2 – Season 5 earlier his month, bringing together "the greatest hunters across all realities" including The Mandalorian and Baby Yoda, God of War's Kratos and Halo's Master Chief.
Last week Fortnite also introduced 120 FPS support on next-gen consoles and a new mode inspired by Among Us, which was reportedly the most popular game ever in terms of monthly players with half a billion active users in November.