Black Ops Cold War beta players find references to loot box mechanics
UPDATE: Treyarch labels mention of Reserve Crates "a bug"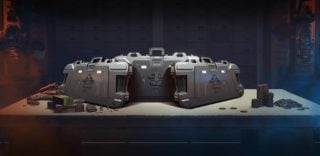 Call of Duty: Black Ops Cold War players have found references to loot box mechanics in the game's ongoing beta.
The beta's Message of the Day reportedly displays several options for "Reserves", "Purchase Crate", and "Crate Bundle" when players use a mouse and keyboard on PlayStation 4.
Since the options seemingly only appear when using a mouse and keyboard to play, it's very possible their appearance is a bug, or at the very least they were not supposed to be seen yet.
UPDATE: A Treyarch representative has labelled this a bug. "For context, this was a bug where placeholder UI from Black Ops 4 was leftover in a Message of the Day template," they said on Reddit.
ORIGINAL STORY CONTINUES: Reserves were added to 2018's Black Ops 4 and allowed players to obtain Reserve Cases and Reserve Crates either by accumulating points in matches, or by spending real money via the Black Market store.
The items effectively acted as loot boxes, unlocking random cosmetic content for Black Ops 4's multiplayer mode.
Call of Duty's next instalment, Modern Warfare and its free-to-play spin-off Warzone, ditched the loot box mechanic in favour of a paid Battle Pass system and cosmetics store which allows players to purchase items directly.
The new approach introduced with Modern Warfare has been incredibly lucrative for publisher Activision. In its most recent financial quarter ending June 30, Call of Duty sales were fives times higher compared to the same quarter last year.
Modern Warfare added more players outside of a launch quarter than any previous Call of Duty title, Activision said, with the majority coming through upgrades from free-to-play Warzone.
Call of Duty: Warzone has attracted over 75 million players since releasing on March 10, according to the publisher.
Activision launched the Call of Duty: Black Ops Cold War beta this week. It will run from October 8-9 (PS4 pre-order customers), October 10-12 (all PS4 players), October 15-16 (all PS4 players and Xbox One/PC pre-order customers), and October 17-19 (all players).