Black Ops Cold War and Warzone Season 4: new maps, weapons, modes, POIs and more revealed
Activision details the Season 4 content roadmap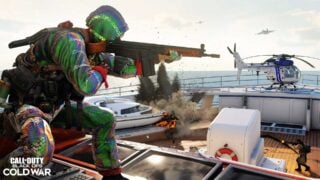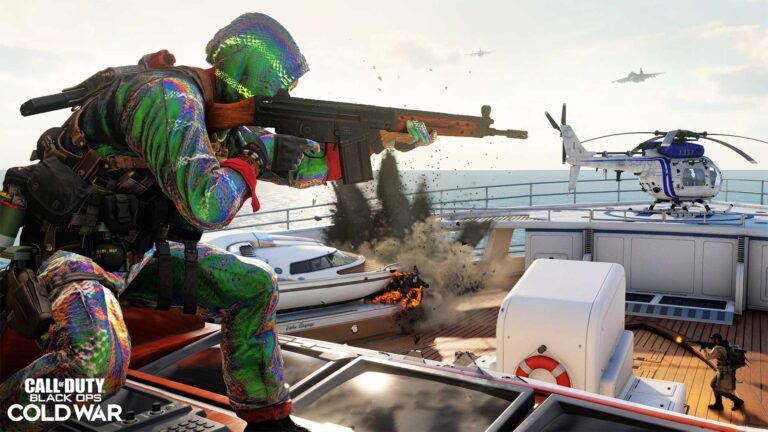 Activision has revealed the Call of Duty: Black Ops Cold War and Warzone Season 4 content roadmap.
The company released the first Black Ops Cold War and Warzone Season 4 trailer last week, alongside the announcement of a June 17 release date.
And on Monday it revealed that Season 4 will introduce four new multiplayer maps, five new weapons, new points of interest in Verdansk, a new quest in Outbreak and the next round-based Zombies map.
Season 4 will kick off with the limited-time 'Ground Fall' event which challenges players to locate and secure SAT-Links to earn rewards across Black Ops Cold War and Warzone, including an Epic Secondary Weapon Blueprint if all challenges are completed.
It will introduce three new operators: Jackal (Warsaw Pact, available at launch), Salah (NATO, in-season), and Weaver (NATO, in-season), plus five new weapons: MG 82 LMG (launch), C58 assault rifle (launch), Nail Gun special/SMG (BOCW/WZ, launch), OTs 9: SMG (in-season), and Mace (in-season). Black Ops Cold War's baseball bat weapon will also be available in Warzone from June 17.
The game's latest Scorestreak is the Hand Cannon, "a semiautomatic handgun chambered in a ridiculously high-caliber round".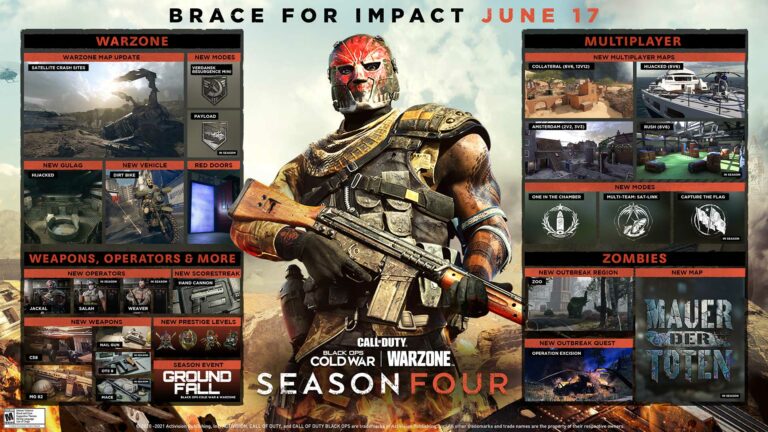 Black Ops Cold War's new multiplayer maps will include the Algeria-set Collateral (12v12) and Collateral Strike (6v6), Amsterdam (2v2 and 3v3) and Black Ops 2's Hijacked (6v6), all of which will be available at launch. Black Ops 2's paintball-themed Rush (6v6) will be added mid-season.
The new Sat-Link multiplayer mode (launch) challenges 10 sets of four-player teams to power up and keep a satellite online for as long as possible across a variety of Ural Mountains locales. Returning multiplayer modes include One in the Chamber (launch), in which players start with just one bullet and get another each time they get a kill, and Capture the Flag (in-season).
In Warzone, there are three new points of interest at Season 4's launch. Satellite Crash Sites tie in with the Ground Fall event, mysterious Red Doors can be travelled through, and Hijacked Gulag will replace the current Standoff Gulag.
Nakatomi Plaza will become Downtown Tower and Warzone will also get the new Dirt Bike at launch, which can transport up to two players and will be the game's fastest vehicle.
New Warzone game modes include Verdansk Resurgence Mini at launch, and the game's first-ever objective-based game mode, Payload, in-season. "In Payload, you and 39 other Operators drop in to escort two caravans of vehicles through a series of checkpoints or sabotage the mission. Build or destroy barriers and purchase buildings to aid in your squad's mission, and be sure to collect any contracts you find around Verdansk, as they will help lead to success."
Zombies sees the addition of a new Outbreak region set in a zoo overrun by the undead, which will be available at launch. It will be followed in-season by a brand-new round-based Zombies experience called 'Mauer der Toten'.
"The Dark Aether story will expand in Outbreak at the start of the season with 'Operation Excision', the newest Zombies Main Quest that will serve as a narrative prologue to the next round-based map coming mid-season," Activision said.
"Taking place after the events of 'Operation Excision' in Outbreak, the Dark Aether story will continue in Treyarch's next Zombies map, where players will take on new terrors in war-torn East Berlin after a devastating zombie invasion has overtaken the city."
The Season 4 update will be available for Black Ops Cold War on June 15 at 9pm PT (June 16 at 5am BST) and for Warzone on June 16 at 9pm PT (June 17 at 5am BST).
The download will weigh in at 15.8-31 GB for those who own the full version of Black Ops Cold War, and 11.4-14.6 GB for those who own the free-to-play Warzone and are current on the latest updates on either or both games.
Black Ops Cold War update sizes:
PC users will also temporarily require 60.6-92.1 GB of additional space on their hard drive for the copying process, which can be reclaimed after the patch is installed.
Warzone update sizes:
PlayStation 5: 11 GB
PlayStation 4: 11 GB
Xbox Series X / Xbox Series S: 11.2 GB
Xbox One: 11.2 GB
PC: 12.3 GB (Warzone Only) / 13.5 GB (Warzone and Modern Warfare)
PC users will also temporarily require 27.1-28.3 GB of additional space on their hard drive for the patch copying process, which too can be reclaimed.
A new Warzone and Modern Warfare high-res texture pack will also be released for console players on June 22.
High-res texture pack update sizes:
PlayStation 5: 7.6 GB
PlayStation 4: 7.6 GB
Xbox Series X / Xbox Series S: 7.2 GB
Xbox One: 7.2 GB