Black Ops 4's battle royal mode 'the result of 9 months of crunch'
Report paints picture of disorganised development and poor working conditions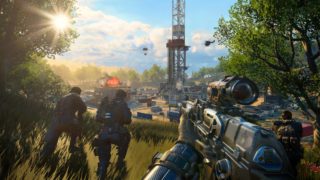 Call of Duty: Black Ops 4's battle royale mode Blackout was reportedly developed in nine months, resulting in intense periods of crunch for many Treyarch employees.
That's according to an in-depth Kotaku report, based on the accounts of 11 current and former members of staff at the development studio.
It's claimed that at the start of 2018, roughly two years into development of the game, employees were informed that its planned campaign had been cut due to technical concerns, timing issues and negative tester feedback.
The campaign had apparently been based on an ambitious two-versus-two multiplayer mechanic, in which opposing factions battled against each other to complete objectives in a post-apocalyptic world.
While the initial rescue plan was to create a more traditional campaign instead, it's claimed Treyarch quickly realised there wasn't enough time to do so, which is when, inspired by PUBG, the studio hit upon the idea of a battle royale mode to fill the content gap.
"Now we have an even shorter amount of time to put in work on a new mode," one development source told Kotaku. "Actual development work on Blackout didn't start until nine months before launch. That mode came together by the seat of its pants. It's kind of a miracle that it did."
All of the those interviewed for the report said Treyarch crunched throughout 2018 to complete the game in time for its October release, which was apparently brought forward from the franchise's traditional November launch window to beat Red Dead Redemption 2 to market.
"There were weeks straight when I was not taking weekends," said one former developer. "Panic attacks, burnout, dissociation. You feel like your boundaries are being violated. You lose all passion for what you're doing and forget why you were doing it in the first place. It's a nightmare."
The article features multiple negative accounts of work/life balance at Treyarch, particularly for contractors working in the QA department, with crunch said to have been extended beyond the game's release through to the summer of 2019, as the title continues to receive significant new content updates to keep players engaged.
Responding to the publication of the report in an internal email obtained by Kotaku, Treyarch studio heads Dan Bunting and Mark Gordon said: "We have a vision for the future of this studio that includes significant improvements to work/life balance, and we plan to achieve that through better project planning, streamlined production processes, and rigorous decision-making timelines. It is also our intention to maintain our commitment to increased transparency.
"Getting there will require time, hard work, and commitment — most of all, it will require open communication. If you ever feel like your needs aren't being met, please do not hesitate to communicate actively with your manager. No one should ever feel like they don't have options, can't talk openly, or that the only choice is to take their concerns to the public. These conversations should always start with an honest dialogue with your department manager, and if that's not working, feel free to reach out to one of us."
Implementing work/life balance improvements at the studio may currently prove trickier than would normally be the case, with Activision having reportedly overhauled its plans for 2020's Call of Duty game following a dispute between its internal studios, and putting Treyarch in charge of delivering Black Ops 5 a year earlier than previously scheduled.