Bithell Games is working on more Tron games
The studio's visual novel Tron: Identity is released today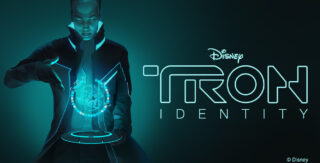 Bithell Games is working on more Tron games, it has been confirmed
The studio, headed by Mike Bithell, releases its first Tron-themed game Tron: Identity today, and it has now been revealed that the it work on other titles in the Tron universe.
Speaking on the D23 website, Disney games producer Heidi Vargas said that further games from the studio using the Tron license are on the way.
"Tron: Identity is the start of Bithell Games' collaboration with Disney on Tron-dedicated games," Vargas said. "Players can expect more Tron titles to come in the future."
Bithell also acknowledged the announcement on Twitter, writing: "When you're enjoying the ride, you stay on the light cycle."
Announced last year and released today, Tron: Identity is a "new extension" of the Tron franchise, according to Disney, and has players unlocking a never-before-seen server filled with new, original programs to join forces with or oppose.
"Tron: Identity builds on the established visual cues and iconography from the Tron: Legacy film," said Vargas later in the interview. "A few things will feel familiar, but you'll also find something that isn't found in the existing films or the [Disney World Tron: Lightcycle/Run] attraction."
"Working with Bithell Games has been an extremely collaborative process," Vargas added. "They are experts in all things Tron and they weren't afraid to take this well-established franchise and create an entirely new world.
"The team was extremely confident in their ability to create a new gaming genre unique for this Disney franchise."
"Tron is an iconic story for so many. Its striking aesthetic, the fantastical world and, of course, its heroic game designer protagonist, were formative for me. I am immensely grateful for this opportunity to stand on the shoulders of generations of artists, and work with my amazing team to create new stories on an exciting new Grid," said Creative Director Mike Bithell. "With Disney, we've created a space where players can tell this story alongside us via meaningful choices and interesting puzzles."
"With the release of Tron: Identity as the first title in our collaboration with Bithell Games for a new Tron storyline, we're thrilled to invite fans into this new expanded world filled with deep exploration and an engrossing story," said Luigi Priore, VP, Disney, Pixar and 20th Century Games. "Driven by player
choice, and filled with challenging puzzles, Tron: Identity is a distinct expression of the universe and an exciting addition to our growing roster of original, immersive games."
Bithell Games is known for its work on titles such as breakout hit Thomas Was Alone, John Wick: Hex, Volume, and VR title Arcsmith.