Beyond Good and Evil 2 to skip E3 2019
But pre-show live stream scheduled for June 5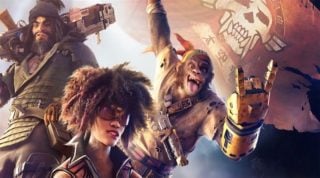 Ubisoft will hold a Beyond Good and Evil live stream ahead of E3 2019, but the long-in-development sequel will not appear at the show itself.
The new live stream is set to take place on June 5 at 6pm CEST (5pm BST / 12pm ET). It's not clear what the stream will include, but the game's official blog suggests that new gameplay is unlikely.
Read our E3 2019 dates schedule for every conference and live stream date.
"This year, as we are focusing on core development milestones, we will not be attending E3 2019," the game's blog reads.
"We will, however, continue our commitment to the Space Monkey Program and keep you updated on the game's development and how we're building the world of Beyond Good and Evil 2."
It adds: "We look forward to sharing more with you, including new gameplay footage, when the time is right."
Beyond Good and Evil 2 resurfaced from a near-ten-year absence at E3 2017, when Ubisoft confirmed the game would now take the form of a prequel.
At E3 2018, the publisher announced a partnership with LA-based "creative collaborative platform" HITRECORD, allowing artists to collaborate on content for the game such as poster designs, radio ads and original music.
Ubisoft has said it plans to release three "very distinct" full price games in the fourth quarter of the current fiscal year ending in March 2020, but it's delayed open-world pirate game Skull & Bones to its next fiscal year.