Bethesda and ZeniMax 'conspired to sabotage Elder Scrolls rival' Rune II, lawsuit claims
Publisher Ragnarok Game is seeking $100 million in damages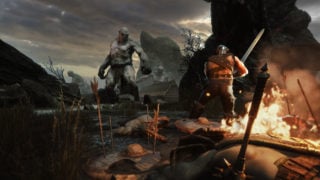 Rune II publisher Ragnarok Game has added Bethesda and parent company ZeniMax media to an ongoing Rune II lawsuit.
The action RPG released for PC via the Epic Games store on November 12, 2019, a day before developer Human Head Studios announced its surprise closure after 22 years in operation.
Simultaneously, Bethesda Softworks revealed it had established Roundhouse Studios, a new Wisconsin studio staffed by developers who had worked at Human Head.
Ragnarok subsequently sued its former development partner for withholding the Rune II source code and assets, among other allegations.
It has now added Bethesda and Zenimax to its lawsuit, accusing the pair of conspiring with Human Head to deliberately sabotage Rune II and Oblivion Song, a game based on the comic series penned by Walking Dead co-creator Robert Kirkman, GamesIndustry.biz reports.
"This lawsuit seeks redress for fraud and the intentional sabotage of two video games, Rune II and Oblivion Song, perpetrated by one of the most infamous conglomerates in the video game industry against an emerging threat to their empire," the lawsuit reads.
"The highly-anticipated release of Rune II was maliciously torpedoed in a conspiracy between the game's developer, desperate for cash, and a large video game conglomerate intent on destroying threats to its own video-game franchises. Oblivion Song was left in a state of unfinished disrepair as a result of the same conspiracy."
The lawsuit adds: "In an act of utter bad faith and contractual breach of confidentiality requirements, Human Head secretly provided Bethesda and ZeniMax with 'keys' that permitted it to play a confidential, pre-release version of Rune 2. This enabled Bethesda and ZeniMax to see for themselves the threat that Rune 2 posed to their hit franchise, Skyrim/Elder Scrolls.
"Two weeks prior to launch of Rune II, ZeniMax secretly formed a new subsidiary, Roundhouse Studios LLC, and used that company to purchase all of Human Head's equipment and take over its leases. That equipment contained Plaintiffs' trade secrets, the source code and materials for Rune II and Oblivion Song. In that same time frame, in order to complete a de facto merger, ZeniMax arranged to have all employees dismissed from Human Head and hired by ZeniMax."
ZeniMax is then said to have ordered Human Head's employees to stop working on Rune II and Oblivion Song, games which they were contractually obliged to support, according to Ragnarok.
While Ragnarok subsequently acquired the source code for Rune II and Oblivion Song, it claims "the assets were incomplete, intentionally sabotaged, and/or altogether missing".
Following a "successful" launch, Rune II's new development team at Ragnarok has continued to update the title with fresh content and it's due for release on Steam on November 13.
However, "Oblivion Song in such a state of disrepair that it has to be abandoned", according to the lawsuit.
Microsoft expects to complete a $7.5 billion acquisition of ZeniMax Media in the second half of its current business year ending in June 2021.