BBC conducts 'world's first in-game interview' in Watch Dogs Legion
Journalist scanned into the game for TV segment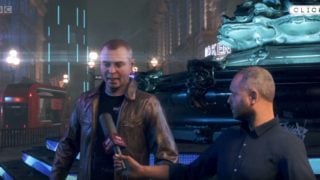 The BBC has held what it's claimed is the world's first in-game television interview in Ubisoft's Watch Dogs Legion.
BBC Click's Marc Cieslak was scanned into the game world using a motion capture rig at developer Ubisoft Toronto.
Cieslak then spoke to creative director Clint Hocking inside a virtual version of London's Piccadilly Circus, to ask about the game and its dystopian, post-Brexit backdrop.
Watch Dogs Legion takes place in a near future UK that has become an oppressive surveillance state, where ordinary citizens are preyed upon by a corrupt private military corporation and a powerful crime syndicate.
Players must recruit Londoners to form a resistance movement.
The game will also support four-player co-op, with progression shared between single-player and online modes.
Watch Dogs Legion was delayed from its original 2019 release window and will now take "full advantage" of PlayStation 5 and Xbox Scarlett when they launch later this year, according to Ubisoft.
Ubisoft CEO Yves Guillemot said in October: "You will be able to download new content a lot faster, players will experience a better framerate… there are lots of very good elements that will come with those new machines."
Watch Dogs Legion is one of a number of titles delayed following the disappointing sales performance of Ubisoft's 2019 titles The Division 2 and Ghost Recon Breakpoint.
VGC understands that Ubisoft has also restructured its Paris-based editorial team, the influential group which steers the direction of all its games.