Bayonetta's voice actor hints that she might not be returning
Hellena Taylor said fans "might have to" imagine the series without her voice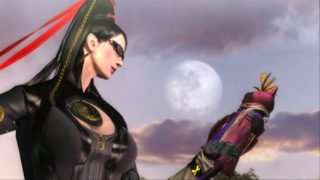 The voice actor behind Bayonetta has hinted that she might not be returning to play the character in the upcoming third game.
British actor Hellena Taylor has voiced the PlatinumGames action star in every one of her video game appearances so far, including cameos in Super Smash Bros. and Anarchy Reigns.
However, responding to a fan on Twitter this weekend who said they couldn't imagine Bayonetta without Taylor's voice, the actor responded: "Well you might have to."
Told by another fan that Bayonetta would be "nothing without you", Taylor replied: "I so wanna answer that one but I'm bound by confidentiality agreement."
Last week developer PlatinumGames provided a development update to VGC on Bayonetta 3, as the game approaches four years since its December 2017 announcement.
Earlier this year series creator Hideki Kamiya appeared to tease a reveal for the game sometime this year. But with three months of 2021 now remaining, he remained coy when asked by VGC last week about a potential showing before Christmas.
He said: "It was more of a not definitely 'something will come out this year', but if there is a year, then something should happen, right?
"If you remember last time, I said that even though everyone was asking about Bayonetta 3, maybe you should tell everyone to forget about it for a while. I kind of need to keep to that stance for now because ultimately, it's not our decision what to say and when to say it."
PlatinumGames' studio head Atsushi Inaba added: "There's no need to worry. Don't worry about it at this time. Everything's OK."
With nearly four years having passed since Bayonetta 3's 2017 announcement, Nintendo was forced to insist in June that the game is still in development and making good progress.
Related Products
Other Products
Some external links on this page are affiliate links, if you click on our affiliate links and make a purchase we might receive a commission.