Bayonetta 3 has added a 'nudity censoring mode', says Platinum
The "Naive Angel Mode" will stop Bayonetta losing her clothes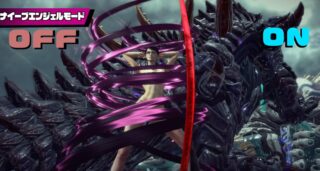 Bayonetta 3 will include a feature that stops its protagonist losing her clothes when she performs certain moves, according to its developer.
A new tweet posted by PlatinumGames explains the feature, which it's calling "Naive Angel Mode".
"In order for more people to enjoy it, Bayonetta 3 is equipped with an epoch-making 'naive angel mode'," it says.
"By setting this mode to ON, you may be able to play in the living room without creating an awkward atmosphere."
In the first two games, Bayonetta's outfit is made of her own hair. When she performs more powerful moves, the hair unravels, leaving her briefly naked (though her hair still covers her modesty).
This will also be the case in Bayonetta 3, but 'Naive Angel Mode' will stop this happening, meaning her suit will remain on at all times.
The tweet was accompanied by a video showing the difference between having the feature turned on and off.
It should be noted that Platinum does have a habit of making jokes on occasion, so despite the official tweet, this feature may not yet be 100% confirmed.
Nintendo finally announced the Bayonetta 3 release date today, nearly five years after the game was originally announced. It will be released as a Switch exclusive on October 28.
Bayonetta 3 will see players meet "a veritable coven of Bayonettas, each more fabulous than the last," while fighting through the streets of Tokyo, the mountains of China and beyond.
In addition to Bayonetta, players will control "feisty witch-in-training" Viola, who is "ready to unleash hell on the Homunculi with her sword and her capricious companion, the feline demon Cheshire."