Battlefield 5 War in the Pacific launches
New content to be included in free weekend trial for PC and consoles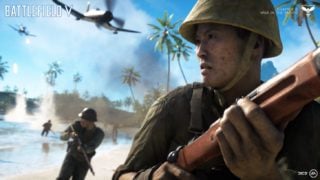 Electronic Arts has released Battlefield V's War in the Pacific update and a new Year 2 Edition of DICE's shooter, ahead of the launch of a free game trial this weekend.
Battlefield V update 5.0 introduces new maps, factions (the US and Japan), weapons and vehicles.
New maps include Pacific Storm and the returning classics Iwo Jima and Wake Island (the latter coming in December), reimagined for Battlefield V.
Fresh weapons include the M1 Garand, Type 99 Arisaka, Type 100 and M1919A6, while katanas and the M2 flamethrowers are new battle pickups that must be found on the battlefield to be equipped.
New vehicles include the M4 Sherman tank, the Type 97 Japanese equivalent, the LVT and Ka-Mi Light Amphibious Tanks, the Dinghy, the MB Jeep, the Type 95 car, the F4U Corsair plane and Japanese Zero Fighter.
Quality of life improvements include UI tweaks, fortifications, sound and audio adjustments and more. Check out the full patch notes here.
Players will be able to sample all the game's multiplayer maps and modes with the latest in a series of Battlefield V free weekend trials, which will be available on PC, PS4 and Xbox One from November 1-3. You can download it here.
EA has also announced Battlefield V Year 2 Edition, a new $49.99/£54.99 version of the title which replaces the previously available Deluxe Edition. It includes the base game and a set of rewards released throughout its first year including weapons, vehicles, outfits and skins.
The Battlefield 6 release date will fall between April 2021 and March 2022, EA revealed on Tuesday.