Battlefield 5 launches free weekend trials
Sample different multiplayer modes each weekend in October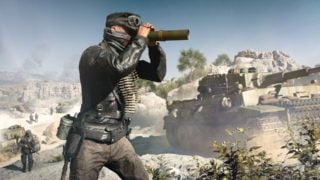 Electronic Arts has launched the first of three Battlefield V free weekend trials for PC.
The free weekend trials will run from October 10-13, October 17-20 and October 24-27, the last one coinciding with the release of Call of Duty: Modern Warfare.
Each trial will offer access to different multiplayer game modes. The first will include Rush, the second will offer Conquest, and the third will feature Grand Operations.
"An onboarding segment of the Squad Conquest mode and all of the War Stories, the untold and unplayed single-player stories inspired by real WW2 events", will also be available throughout the trial weekends, EA says.
Players will be able to unlock rewards as they play and carry their progression over to the full game should they choose to purchase it.
Battlefield V's Operation Underground map released on October 3. Set in and around the subway tunnels of a war-torn German city, it's a spiritual successor to Battlefield 3's Operation Métro map.
DICE general manager Oskar Gabrielson recently apologised to a community of players "frustrated and disappointed with the experience across" Battlefield V Chapter 4: Defying the Odds, which introduced a number of game issues the studio has been working to address ever since.
Following a recent delay, a private games feature is now planned for release with Battlefield V's Chapter 5 Pacific War update, which will also add three new maps, including a modern take on Iwo Jima, and at least seven fresh weapons and gadgets before the end of the year.