Battlefield 2042's open beta has officially been dated
Early access begins on October 6 ahead of general availability on October 8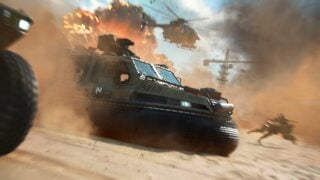 Electronic Arts has officially dated Battlefield 2042's open beta.
Confirming earlier leaks, the publisher said Battlefield 2042's beta will launch at 12am PT / 3am ET / 8am BST / 9am CEST on October 8 for Xbox One, Xbox Series X/S, PS4, PS5 and PC. It will run until the same time on October 10.
EA Play members and pre-order customers can gain 48-hour early access beginning on October 6, with pre-loading available to all players from October 5.
Battlefield 2042 | Open Beta Trailer
The Battlefield 2042 beta will include the Conquest game mode on the Orbital map showcased in the title's reveal trailer. Orbital sees players battling for control over a rocket launch site in Kourou, French Guiana.
In mid-September, EA delayed Battlefield 2042's release date from October 22 to November 19.
EA said in July that Battlefield 2042's open beta would launch in September, but its plans changed when the game was delayed.
DICE studio GM Oskar Gabrielson recently said Battlefield 2042 had been delayed due to issues caused by the Covid-19 pandemic.
"Building the next generation of Battlefield during a global pandemic has created unforeseen challenges for our development teams. Given the scale and scope of the game, we had hoped our teams would be back in our studios together as we move towards launch," he explained.
"With the ongoing conditions not allowing that to happen safely, and with all the hard work the teams are doing from home, we feel it is important to take the extra time to deliver on the vision of Battlefield 2042 for our players. Your enthusiasm for the game has been very inspiring. We believe in the game we're making, and we thank you for your patience as we put some finishing touches into the experience."