Battlefield 2042's open beta attracted 7.7 million players
Including over three million during its early access period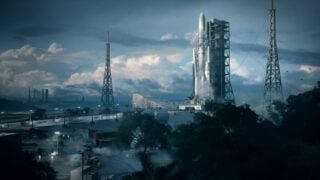 Last month's Battlefield 2042 open beta attracted 7.7 million players, according to publisher Electronic Arts.
EA Play members and pre-order customers received 48 hours early access to the beta, which opened to all players on October 8 and ran until October 10.
During EA's second quarter earnings call on Wednesday, CEO Andrew Wilson said the beta attracted 3.1 million users during the early access period, making it the biggest early access event in the publisher's history.
Battlefield 2042 | Official PC Trailer With RTX On
The Battlefield 2042 beta included the Conquest game mode on the Orbital map showcased in the title's reveal trailer, which sees players battling for control over a rocket launch site in Kourou, French Guiana.
After the beta wrapped up, developer DICE reassured fans that a number of features missing from the recent Battlefield 2042 test would be present in the final game.
Earlier today, it was confirmed that EA Play and Xbox Game Pass members will receive access to a 10-hour Battlefield 2042 trial.
EA Play members (including Xbox Game Pass and Game Pass Ultimate subscribers) will be able to begin the free trial on November 12.
In mid-September, EA delayed Battlefield 2042's release date from October 22 to November 19. However, players who pre-order the Battlefield 2042 Gold and Ultimate editions will receive access to the full game one week ahead of its general release.