Battlefield 2042's beta release date has reportedly slipped to October
After the full game's release date was delayed until November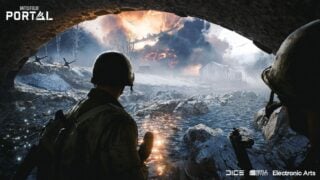 Following Battlefield 2042's delay to November, the game's open beta has also reportedly been pushed to October.
On Wednesday, publisher Electronic Arts delayed Battlefield 2042's release date from October 22 to November 19.
EA said in July that Battlefield 2042's open beta would launch in September and it was recently claimed that the test would begin on September 22, but that may no longer be the case.
Announcing the main game's delay, EA said "updates on the open beta will be coming later this month".
And according to reliable Battlefield insider Tom Henderson, the 2042 beta will now begin on October 6 for pre-order customers ahead of its wider availability on October 8.
"These dates are yet to be sent to media/creators and are expected to be sent in the next couple of days," he claimed.
"The dates found are in an internal system that I cannot share."
Henderson's message listing the October beta release dates was retweeted by VentureBeat reported Jeff Grubb, who earlier said he'd "heard that the September 22 beta may also get delayed".
DICE studio GM Oskar Gabrielson said on Wednesday that Battlefield 2042 had been delayed due to issues caused by the Covid-19 pandemic.
"Building the next generation of Battlefield during a global pandemic has created unforeseen challenges for our development teams. Given the scale and scope of the game, we had hoped our teams would be back in our studios together as we move towards launch," he explained.
"With the ongoing conditions not allowing that to happen safely, and with all the hard work the teams are doing from home, we feel it is important to take the extra time to deliver on the vision of Battlefield 2042 for our players. Your enthusiasm for the game has been very inspiring. We believe in the game we're making, and we thank you for your patience as we put some finishing touches into the experience."