Batman: The Telltale Series relaunched with 'noir' makeover and new DLC
Shadows Edition available today on all platforms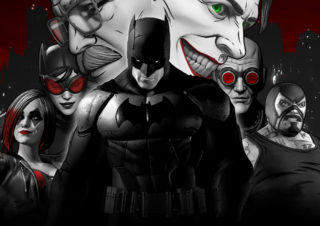 Batman: The Telltale Series will be re-released today with a "noir-style" visual makeover and graphical upgrade, plus new downloadable content.
According to a now-removed press release (via Gematsu), The Telltale Batman Shadows Edition will be available for PlayStation 4, Xbox One, Switch, and PC via Steam and the Epic Games Store for $29.99.
Users who already own Batman: The Telltale Series can add "Shadows Mode" as standalone DLC for $4.99.
"We're excited to be able to build and continue the legacy of an iconic Telltale Games franchise by launching The Telltale Batman Shadows Edition today," said Telltale Games CEO Jamie Ottilie in a statement.
"This is just the beginning in a much more expansive plan to build on our catalog of Telltale Games titles, which we hope to discuss in further detail in the coming months."
Publisher Athlon Games acquired the rights to several Telltale titles earlier this year, following the Telltale brand's reformation via Holding company LCG Entertainment.
Athlon has back-catalogue rights to licensed properties The Wolf Among Us and Batman, plus full rights to original Telltale games such as Puzzle Agent.