Banjo-Kazooie, Donkey Kong composers have released a Christmas song
"A Video Gaming Christmas" by Grant Kirkhope and David Wise is out now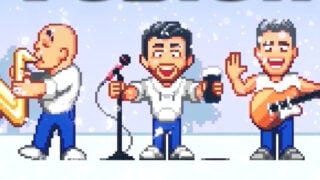 Former Rare veterans Grant Kirkhope, David Wise and Kevin Bayliss have released a Christmas song.
The trio, who worked at Rare during the studio's Nintendo era in the 90s, have released the song under the band name Retro-Fusion, along with a festive music video.
'A Video Gaming Christmas' is available to stream or purchase on Amazon, Apple Music, Spotify and more, with some of its proceeds going to games charity Special Effect.
"I always wanted to do a cheesy Xmas tune in the grand tradition of the UK Xmas hits that were huge when I was a teenager," commented Kirkhope. "This year it happened, with David Wise and Kev Bayliss. You're only allowed to listen if you're wearing a Santa hat, it's obligatory!"
At Rare the trio worked on titles such as Goldeneye, Banjo-Kazooie and Donkey Kong Country.
Kevin Bayliss, who provides the vocals for Video Gaming Christmas, designed characters for a string of titles during including Donkey Kong Country, Diddy Kong Racing, Battletoads, Killer Instinct and more.
Grant Kirkhope and David Wise are known for their work on video game soundtracks. Kirkhope famously created the music for Banjo-Kazooie and GoldenEye, while Wise is best known for the Donkey Kong Country games.
More recently, Wise has also contributed music to Snake Pass, Tengami and Yooka Laylee. Kirkhope recently appeared as part of a composer super-group on Mario + Rabbids Sparks of Hope alongside Gareth Coker (Ori) and Yoko Shimomura (Street Fighter 2).
Related Products
Other Products
Some external links on this page are affiliate links, if you click on our affiliate links and make a purchase we might receive a commission.