Avengers' Spider-Man update won't include story missions, unlike previous character DLC
The first Spider-Man gameplay has also been released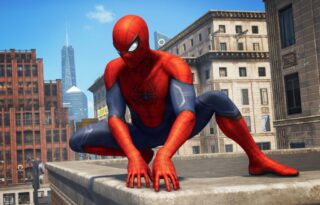 Marvel's Avengers' upcoming Spider-Man content won't include story missions as some had previously expected, it's been revealed.
"Spider-Man is what we call an 'event' so he will have cut scenes and a story for sure," Marvel's Avengers senior producer Dan Matlack said during an exchange on the game's official Discord in September.
Some took that to mean that Spider-Man's arrival in the game would be accompanied by bespoke story missions like those included with previous updates for new characters like Kate Bishop, Hawkeye and Black Panther.
But that won't be the case, Avengers' gameplay director Philippe Therien has told IGN.
Marvel's Avengers - Spider-Man With Great Power Cinematic Trailer
Instead of a short campaign with new missions, Avengers' Spider-Man story will be relayed through audio logs and illustrated cutscenes unlocked by completing new Avengers multiplayer challenges.
The delayed and PlayStation-exclusive superhero will finally arrive on PS4 and PS5 on November 30 as part of the game's version 2.2 update.
Spider-Man will be accompanied by a new Hero Event called With Great Power, in which the character teams up with Ms. Marvel and Black Widow to try to stop an AIM plan, while struggling to decide whether he prefers working alone or as part of a team.
Although the Spider-Man content will be exclusive to the PS4 and PS5 versions of the game, the game's 2.2 patch will include content available on all formats, including a Klaw Raid which takes place after the events of the War for Wakanda expansion.
"We want to spend our efforts on content that everyone can enjoy, so we chose to spend a lot of our energy on the Klaw raid that's coming up at the same time," Crystal Dynamics' Therien said.
"Really that's a simple decision for us. Spider-Man can play all the content, but then we release a piece of content that's good on all platforms. Really that was a decision that's been that way since the beginning," he claimed.
The first Marvel's Avengers Spider-Man gameplay can also be viewed in IGN's video preview, above.
Publisher Square Enix and developer Crystal Dynamics removed paid XP boosts from Marvel's Avengers earlier this month, following a backlash from fans over their introduction to the game.
The ability to buy XP and resource-collecting boosts with real money was controversially added to the game in October, just over a year after Marvel's Avengers' release.
The head of Square Enix recently suggested Crystal Dynamics was a bad fit for Marvel's Avengers given its lack of experience with the games as a service model.
Addressing shareholders in a statement published in the company's annual report, president Yosuke Matsuda said Square Enix needed to learn from the game's "disappointing" performance.