Atari is selling a 50th anniversary box set of 10 Atari 2600 games for $1,000
The set features 10 classic Atari titles in special light-up cartridges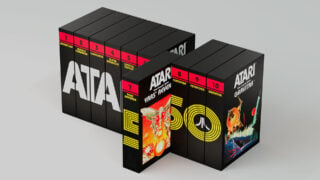 Atari is selling a limited edition 50th anniversary box set of physical Atari 2600 games for $999.99.
The collection, released as part of the ongoing Atari 50 celebrations, contains 10 physical Atari 2600 games, each in new packaging.
The games were sold individually in recent months for $99.99 each, and all 10 have since sold out. This thousand-dollar box set, then, is the last chance Atari collectors will have to buy them before likely having to spend even more on them in the resale market.
However, Atari is limiting the set to just 100 units.
Atari 50 - Atari 2600 Centipede collectible cartridge trailer
The 10 games included in the box set are:
Adventure
Missile Command
Warlords
Super Breakout
Crystal Castles
Haunted House
Yars' Revenge
Centipede
Asteroids
Gravitar
Each individual game box contains new artwork, a hard enamel collectible pin, a collectible patch and a custom acrylic cartridge stand.
Each cartridge will play on original Atari 2600 hardware, and has been designed to light up while the console is turned on.

Atari fans who may not be keen to spend $1,000 on 10 cartridges may instead be better catered for with Atari 50, which released last November to critical acclaim.
The compilation contains more than 100 games across Atari's range of systems, from early arcade titles to 2600, 5200, 7800, Lynx and Jaguar games.
It also contains five interactive timelines, which in developer Digital Eclipse's words offer information on "the games that launched the modern industry […] through interviews, archival images, special source material and behind-the-scenes content".
Fans may also prefer the Lego Atari 2600, which is a full-size Lego replica of Atari's original console and costs $199.99.