Astral Chain review round-up: Platinum matches Nier with critic scores
Nintendo exclusive out Friday, August 30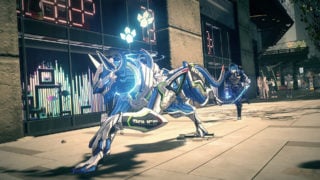 Astral Chain reviews have started to go live ahead of the game's Nintendo Switch release on Friday August 30.
At the time of publishing, the PlatinumGames title is sitting on a Metacritic score of 88, the same as 2017 hit Nier: Automata.
VGC's Astral Chain review calls the title "a one of a kind combat experience and Platinum's most well-rounded adventure to date."
Read on to see what other critics thought of the action game.
VGC (5/5) – "It's not just Platinum at its best, but often feels like a 'best of' the company's previous work, the culmination of years of action game experimentation."
Famitsu (37/40) – "The content is not completely devoted to battles, as you can also use Legions for investigations which is good. Being able to have 2-player co-op is also awesome."
Nintendo Life (9/10) – "With its amazing visuals, fantastic presentation, varied gameplay and deep, rewarding combat, Astral Chain could well be PlatinumGames' most accomplished game yet."
USgamer (4/5) – "Astral Chain is the directorial debut of Nier Automata designer Takahisa Taura, and it proves that he's a creator worth paying attention to."
Eurogamer (no score) – "Astral Chain's action is some of the very finest I've come across, all delivered with a seamless quality that often leaves you breathless."
GameSpot (8/10) – "Astral Chain's shortcomings don't overshadow what it does best. It's an incredible execution of a fresh take on Platinum Games' foundation, standing among the stylish-action greats."
IGN (9/10) – "Astral Chain is another excellent game from Platinum, and one of the best action games of this generation. Period."
Destructoid (9/10) – "In the first few hours, I was all over the place when it came to an assessment, as it can take some time to really turn it up. But when it does it just clicks, and I don't want to stop playing it."
TheSixthAxis (8/10) – "Astral Chain boasts the same winning elements of Platinum's finest work – exhilarating combat, characterful visuals, and a compelling story – but it loses a bit of personality."
Game Informer (9/10) – "Platinum has created a wonderful new universe for players to dive into that I could see extending into anime, movies, and hopefully sequels."
Metro (9/10) – "Another classic action game from Platinum that's so full of ideas it seems fit to burst and yet everything not only works perfectly but is filled with an infectious sense of goofy fun."
ShackNews (9/10) – "I am insanely impressed with the world that Platinum has built-in Astral Chain overall. It is gorgeous, the plot is intriguing and it feels like something new when it comes to the investigations and police work."