Assassin's Creed Valhalla's next update will add new difficulty settings and stealth fixes
New Ezio community challenge also unlocks an Assassin's Creed II tattoo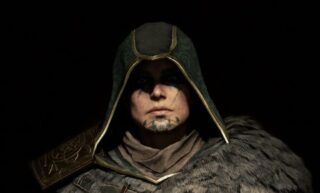 The next Assassin's Creed Valhalla title update will introduce a range of new difficulty settings alongside several stealth fixes.
Set for release next week, Assassin's Creed Valhalla title update 1.4.1 lets players customise their game experience more deeply by tuning new combat, stealth and exploration difficulty settings.
Ubisoft said the update will also include several fixes designed to improve detection and social stealth issues, which are listed below after the breakdown of the new difficulty settings.
It was confirmed earlier this week that Assassin's Creed Valhalla's 1.4.1 update will require players to redownload the entire game.
The requirement is part of a "data restructuring" which Ubisoft said will significantly reduce the title's file size on all platforms and improve performance.
A new Assassin's Creed Valhalla community challenge launched on Thursday, giving players the opportunity to unlock an Assassin's Creed II tattoo.
To complete the Ezio Auditore da Firenze challenge, Valhalla players must perform 350,000 air assassinations by December 16.
New Valhalla difficulty setting and fixes
COMBAT
• Aim Assist (Full, Moderate, Light, Off)
• Level Scaling (Off, Default, Constant, Harder, Nightmarish)
• *NEW* Parry timing-window (400, 650, 800 ms)
• *NEW* Brush with Death timing-window (300, 400, 600 ms)
• *NEW* Brush with Death Duration (1, 1.5, 2, 2.5 sec)
STEALTH
• Guaranteed Assassination (ON/OFF)
• *NEW* Detection escape (0.5, 1, 2 sec)
• *NEW* Detection escape while aiming (1, 2, 4 sec)
• *NEW* Search duration (50, 65, 80 sec)
• *NEW* Maximum enemies in search (2,3)
EXPLORATION
• Closest Opportunity (ON/OFF)
• Icon Distance (OFF/ON)
• *NEW* Viewpoint Synchronization (ON/OFF)
• *NEW* Exploration Beams (Limited/Full)
• *NEW* Unguided Objectives (OFF/ON)
STEALTH FIXES:
• Improved instances where NPCs could detect players when vision between the player and NPCs is obstructed.
• Reduced the hold time and speed restriction when blending with crowds.
• Resolved some issues that caused players to be instantly detected when they should not have been.
Related Products
Other Products
Some external links on this page are affiliate links, if you click on our affiliate links and make a purchase we might receive a commission.