Assassin's Creed Valhalla's Dawn of Ragnarök expansion has officially been announced
Ubisoft says the new DLC will star Odin and add another 35 hours of gameplay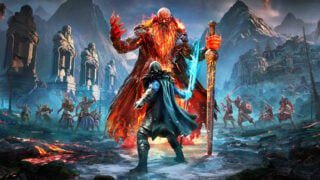 Ubisoft has officially announced the next Assassin's Creed Valhalla expansion.
Confirming several earlier leaks, the expansion is titled Dawn of Ragnarök. It will be released on March 10, 2022 and will contain around 35 hours of gameplay, according Ubisoft.
Dawn of Ragnarök is being developed by Ubisoft Sofia, the same team responsible for Assassin's Creed Rogue and the Curse of the Pharaohs expansion for Assassin's Creed Origins.
Dawn of Ragnarök was announced on Monday alongside Assassin's Creed Valhalla and Assassin's Creed Odyssey crossover story DLC, which is set for release on December 14.
The Dawn of Ragnarök expansion will include a new cast of characters and a new Norse realm which will be roughly a third of the size of the England map in the main game.
Rather than controlling Eivor, in Dawn of Ragnarök players will instead be playing as Odin, the Norse god of battle and wisdom.
In the expansion, Eivor drinks a potion which gives them a vision where they become Odin, as they head out on a quest to rescue their son Baldr.
This journey takes Odin to Svartalfheim, a kingdom populated by dwarves which is currently under invasion.
The invasion has forced the dwarves into hiding, so the player has to explore the depths of Svartalfheim to find their secret shelters, locate the dwarves and gain their knowledge in order to find and rescue Baldr.
Enemies encountered along the way include Muspels, new fire-based foes with archetypes including the Flame Keeper (which can resurrect fallen enemies) and Surtr's Fury (which rushes at Odin and explodes).
The expansion's main enemy is Surtr, an "unkillable fire giant" who Ubisoft describes as "the greatest enemy that Odin has ever faced".
As seen in the trailer for the expansion, players can acquire new powers thanks to the Hugr-Rip, a bracer given to Odin by the dwarves. When players defeat an enemy they can take their powers.
These include shapeshifting into a raven (so you can swoop towards enemies from the sky during assassinations), infusing their weapons with ice, using their bow to teleport to remote locations or resurrecting dead enemies to fight alongside them.
There's also a new fighting arena in which players can take on a Valkyrie's challenge and fight a series of enemies for rewards.
Dawn of Ragnarök is the first in an unprecedented second year of expansions for Valhalla, with more to follow.
Meanwhile, Ubisoft continues to work on Assassin's Creed Infinity, a collaboration between both Ubisoft Montreal (Assassin's Creed Origins and Valhalla) and Ubisoft Quebec (Assassin's Creed Odyssey) which promises to evolve over time as a live service.
Related Products
Some external links on this page are affiliate links, if you click on our affiliate links and make a purchase we might receive a commission.