Assassin's Creed Valhalla will get a second year of expansions
"Something tells me that Eivor is not done with Odin yet"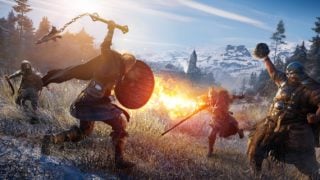 Ubisoft has confirmed plans to launch more Assassin's Creed expansions in 2022.
The publisher seemingly ruled out the possibility of a new Assassin's Creed game arriving in the near future in a video (below) released on Saturday.
"For the first time on an Assassin's Creed title we'll be supporting the game well into its second year," said Ubisoft Montreal senior community developer Karen Lee.
"While this year will be a very active year for the game, we're already working on more expansions for next year. Something tells me that Eivor is not done with Odin yet."
Assassin's Creed Valhalla's first major expansion, Wrath of the Druids, launched in May.
Its second expansion, The Siege of Paris, will be released this summer.
Speaking on the latest Triple Click podcast, which was published on June 10, Bloomberg reporter Jason Schreier said he didn't expect to see a new Assassin's Creed game in the near future as he'd heard Valhalla remains Ubisoft's current focus.
However, he also claimed to have heard that the next mainline entry in the series is going to be very sizeable.
"Assassin's Creed is in an interesting place because they're really into expanding Valhalla and adding more stuff to Valhalla so that will be a big thing for while," he said.
"I heard that they made some recent changes and they might put something else out in the next year or two, but from what I've heard, there's one big, big Assassin's Creed in development that is going to be really big and their goal is to like—and I know we're all like, 'we need shorter games'—but from what I've heard this game is going to be probably bigger than others."
Schreier added: "There were rumours on the internet that I think I've heard similar things myself on about Ubisoft Sofia—I think they made Assassin's Creed Rogue—that they were working on something that was either cancelled or morphed into DLC or something like that so there's a lot of stuff in flux there too."
The Assassin's Creed franchise has sold 155 million units since debuting in 2007, and it recorded its strongest sales year to date in the 12 months ended March 31, 2021, according to Ubisoft.
Related Products
Other Products
Some external links on this page are affiliate links, if you click on our affiliate links and make a purchase we might receive a commission.