Assassin's Creed Valhalla hotfixes target bugs blocking quest progression
Ubisoft is "working on more permanent solutions"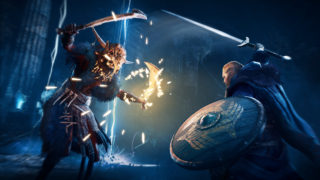 Ubisoft has released hotfixes for bugs blocking progression in several Assassin's Creed Valhalla quests.
While it's "working on more permanent solutions", the company released three server-side hotfixes on Friday as temporary solutions.
The fixes address the following problems:
Unable to proceed with Rock of Fertility world event
Unable to proceed with The Reeve of Winchester

Cannot interact with Goodwin after escorting him to safety

Unable to proceed with Island of Eels

Cannot interact with Soma
---
Assassin's Creed Valhalla Guides:
---
If players are unable to progress the quests after loading their save game, Ubisoft said they should:
Create a manual save
Close the game entirely, then launch it again
Load the created save
You should now be able to proceed with the respective quest
"If you reload the game before proceeding with the respective quest, you'll have to relaunch the game application before being able to proceed with the quest," Ubisoft added.
Ubisoft introduced Assassin's Creed Valhalla's River Raids mode in February as part of the game's first season of content, which launched in December 2020.
Each Assassin's Creed Valhalla season will last for three months and include in-game events, new settlement buildings and games modes.
Season 2, titled Ostara, will launch in March with an update introducing a festival in the settlement, a new game mode which evolves the game's core combat experiences, plus fresh gear and cosmetic items.
A pair of Assassin's Creed Valhalla story expansions are also coming later this year. Launching in spring 2021, Wrath of the Druids will see players travel to Ireland to uncover the mysteries of an ancient druidic cult.
The Siege of Paris expansion, which retells the Viking invasion of France in 845 AD, will follow in the summer of 2021.
Ubisoft recently reported "the strongest quarter" in its history, driven in part by record launch sales for Assassin's Creed Valhalla.