Assassin's Creed Syndicate and Faeria are now free on the Epic Games Store
Exploration flying game InnerSpace will be free next week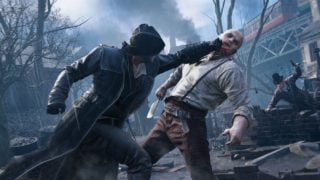 Assassin's Creed Syndicate and Faeria are now free to download from the Epic Games Store.
Normally priced at £33.99 on the Epic Games Store, Assassin's Creed Syndicate originally released in November 2015 and takes the series to London during the Industrial Revolution.
The PC version of the game has a Metascore of 74 on review aggregation site Metacritic, based on 14 reviews.
Faeria is a strategy card battler usually priced at £18.99. According to its Epic Games Store listing, "with its unique living board, Faeria is also the only card game where you can gain all 300 cards in less than 50 hours." It has a Metascore of 81 based on nine reviews.
The two titles will be available free on the Epic Games Store until 11am ET / 8am PT / 4pm UK on February 27, when they'll be replaced by InnerSpace from developer PolyKnight Games.
"InnerSpace is an exploration flying game set in the Inverse, a world of inside-out planets where gravity pulls outward instead of in," according to publisher Aspyr Media.
Released in January 2018, the PC version of the game has a Metascore of 65 based on 13 reviews.
It was announced in mid-January that the Epic Games Store's weekly free game promotion has been extended throughout 2020.