Assassin's Creed Mirage revealed: Baghdad entry is 'a tribute to the original game'
Ubisoft Bordeaux, the studio behind Wrath of the Druids, is leading development on the next game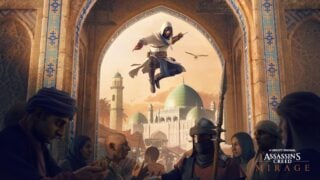 Ubisoft has officially announced its next Assassin's Creed game, Assassin's Creed Mirage.
Set for release in 2023 with development led by Ubisoft Bordeaux, the studio behind the Wrath of the Druids expansion for Assassin's Creed Valhalla, Mirage is described as a "special tribute to the first Assassin's Creed".
The game will see a return to the action-adventure style of series entries released before more recent RPG-style games Origins, Odyssey and Valhalla.
As expected, the game will be set in ninth-century Baghdad at the peak of its Golden Age.
"It offers a narrative-driven action-adventure experience with an intriguing coming-of-age storyline, charismatic protagonists, a majestic open city and modernized legacy gameplay focusing on parkour, stealth and assassinations," Ubisoft said.
Players will control Basim Ibn Is'haq, a street thief "with a mysterious past", who will join the Hidden Ones in Alamut on a quest for answers. Basim's mentor, Roshan, will be voiced by Emmy-winning actress Shohreh Aghdashloo.
According to serial Assassin's Creed leaker j0nathan, the game will feature one city, Baghdad, which will include four individual districts, each with its own boss.
Mirage will also reportedly attempt to recreate the crowd density of 2014's Assassin's Creed Unity, which took place during the French revolution and featured a massive number of NPCs on screen at once.
"For the 15th anniversary of the franchise we wanted to offer something special to the players and our community", said Stéphane Boudon, senior content director for Assassin's Creed Mirage.
"Assassin's Creed Mirage is a tribute to the franchise, and notably to the original game. We are bringing a modern take on the iconic Assassin's Creed gameplay experience, as well as a deep dive into the rituals and tenets of the Hidden Ones, something  we think both longtime and new fans alike will be eager to play".
Assassin's Creed Mirage will release on Xbox Series X|S, Xbox One, PlayStation 5, PlayStation 4 and Luna, as well as PC through the Epic Games Store and the Ubisoft Store.
In addition, Ubisoft detailed the future roadmap on the Assassin's Creed franchise at an event in Paris this week, attended by VGC.
As part of the new Infinity franchise hub, the live service initiative announced last year, Ubisoft plans to launch two flagship games Codenamed Red and Codenamed Hexe , along with a mobile game codenamed Jade, another mobile collaboration with Netflix, and a standalone multiplayer game codenamed Invictus.
In an interview with VGC, series boss Marc-Alexis Cote shared more details on the future Assassin's Creed games.
Related Products
Other Products
Some external links on this page are affiliate links, if you click on our affiliate links and make a purchase we might receive a commission.