Aspyr offers a workaround for a game-breaking Star Wars KOTOR II bug on Switch
Players can bypass the bug using the cheats menu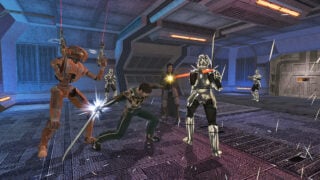 Aspyr has offered a workaround for a game-breaking bug in the Switch version of Star Wars Knights of the Old Republic II: The Sith Lords.
The game, which was released for Nintendo's console earlier this month, includes a crash which occurs after the Basilisk Crash cutscene when landing on Onderon, blocking further progression.
"For now, our suggested workaround is to warp past the point where the game crashes using the cheats menu," Aspyr said on Wednesday.
Star Wars: Knights of the Old Republic II - Nintendo Switch
"To do so, triple click the left thumbstick, open the cheats menu, select warp, and warp to OND504. Make sure not to head to the merchant quarter, as your game will crash."
Aspyr has said the issue will be addressed in the game's next patch, but it hasn't said when this might be.
A recent tweet from Aspyr acknowledging the issue led many to believe the bug was affecting all Star Wars KOTOR II players on Switch, meaning nobody was able to finish the game.
But a company representative has since told Axios this isn't the case, claiming only a "small number" of players have encountered the problem.
Aspyr is currently working on a Knights of the Old Republic remake for PS5 and PC. Rather than a simple remaster, it has said the game is being "rebuilt from the ground up" with modern visuals and technology.
The company is also behind the recent re-releases of Star Wars: Jedi Knight II, Republic Commando and Episode 1 Racer. It's even ported KOTOR to iOS in the past, along with another BioWare title, Jade Empire.