Aspyr has fixed a game-breaking Star Wars KOTOR II bug on Switch
The game's latest update addresses "top player-reported issues"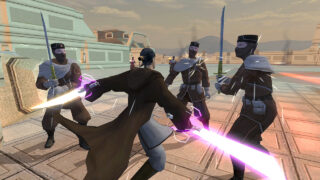 Aspyr has released a fix for a game-breaking bug in the Switch version of Star Wars Knights of the Old Republic II: The Sith Lords.
The game, which was released for Nintendo's console last month, included a crash which occurred after the Basilisk Crash cutscene when landing on Onderon, blocking further progression.
While Aspyr previously offered a workaround for the bug, it said it has now been fixed in an update that "addresses our top player-reported issues".
These also include an issue where the game would crash on certain mid/late game saves (Dantooine and Korriban), and an issue where players could become stuck in a loading screen loop when Sith Troopers board the Ebon Hawk on Peragus.
Aspyr is currently working on a Knights of the Old Republic remake for PS5 and PC. Rather than a simple remaster, it has said the game is being "rebuilt from the ground up" with modern visuals and technology.
The company is also behind the recent re-releases of Star Wars: Jedi Knight II, Republic Commando and Episode 1 Racer. It's even ported KOTOR to iOS in the past, along with another BioWare title, Jade Empire.
Aspyr is a subsidiary of World War Z and Witcher 3 port studio Saber Interactive, which is also working on the upcoming KOTOR remake.
Related Products
Other Products
Some external links on this page are affiliate links, if you click on our affiliate links and make a purchase we might receive a commission.