Aspyr acknowledges there's no way to complete Star Wars KOTOR II on Switch
The company says it's working on a patch to address a game-breaking crash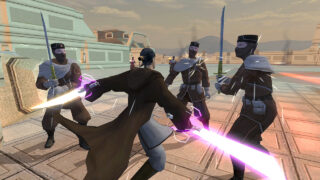 Aspyr has acknowledged that players are currently unable to complete the Switch version of Star Wars Knights of the Old Republic II: The Sith Lords.
The title, which was released for Nintendo's console in early June, includes a game-breaking crash that occurs after the Basilisk Crash cutscene when landing on Onderon.
Aspyr was asked about the issue, which is scheduled to be addressed in an upcoming patch, by a frustrated Twitter user called Daniel Moore.
They messaged Aspyr asking if it was aware that the game can't be completed in its current state.
"Hi, this is a known issue that will be addressed in the next patch," came the official response. "While we cannot provide an ETA at this time, we will definitely let you know when the patch is live."
UPDATE 22/06/22: Aspyr has offered a workaround for the game-breaking bug, and claimed that it's affecting a "small number" of players rather than all users.
ORIGINAL STORY CONTINUES: Moore responded by saying they were one of the users who originally reported the problem before it was acknowledged as a known issue, before adding: "Just to be clear you're aware that there is no way to complete this game currently?"
To which Aspyr replied: "Yes, we are aware and our dev team is working on delivering the patch as soon as possible. We apologize for the inconvenience and appreciate your patience in the meantime!"
Texas-based Aspyr is currently working on a Knights of the Old Republic remake for PS5 and PC. Rather than a simple remaster, it has said the game is being "rebuilt from the ground up" with modern visuals and technology.
Aspyr is also behind the recent re-releases of Star Wars: Jedi Knight II, Republic Commando and Episode 1 Racer. It's even ported KOTOR to iOS in the past, along with another BioWare title, Jade Empire.
Aspyr is a subsidiary of World War Z and Witcher 3 port studio Saber Interactive, which is also working on the upcoming KOTOR remake.
Related Products
Other Products
Some external links on this page are affiliate links, if you click on our affiliate links and make a purchase we might receive a commission.