Armed police were deployed to Ubisoft Montreal following a 911 call
UPDATE: No threat detected and no injuries reported as police end operation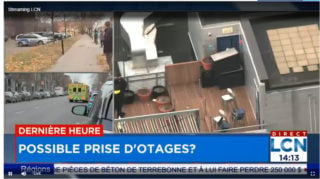 Multiple news outlets reported an incident around the Ubisoft Montreal building in Quebec, Canada on Friday.
Journal de Montreal and TV Nouvelles first reported that armed police had been deployed to the streets surrounding the Ubisoft Montreal building, amid unconfirmed reports of employees being held hostage.
Videos published on social media showed police cordoning off the area around the building, where authorities confirmed an "ongoing operation" was taking place.
Live footage on Canadian news channels reportedly showed employees on the roof of the building, with the entrance barricaded. Other employees were said to be barricaded in conference rooms.
According to the reports, employees took cover after receiving a threatening call.
UPDATE 12:09 PT: Montreal Police have said they were dispatched to the scene to respond to a call to 911. Specialized police officers are on the scene to carry out checks and no injuries have been reported.
Valérie Plante, the mayor of Montreal tweeted: "My team is in close communication with the police and we are monitoring the situation closely. We encourage Montrealers to avoid the Mile End area."
UPDATE 12:29 PT: Journal de Montreal and TV Nouvelles are both reporting that the 911 call that triggered the major police operation was unfounded. However, nothing has been confirmed by the police.
UPDATE 12:43 PT: People are reportedly starting to evacuate the building.
According to local media, investigators are actively working to locate the person responsible for the threatening call. Many employees confined in the building did not know that it was a false alarm.
UPDATE 16:47 PT:  Montreal Police have announced that the operation in connection with the "hostage taking call" is over.
No threat has been detected and no injuries are reported, they said. An investigation will follow to shed light on the call behind the incident.
The Montreal Police's full statement follows:
This Friday afternoon, the Service de police de la Ville de Montréal (SPVM) deployed a large number of resources to answer a call for a hostage situation in a Saint-Laurent Boulevard office building. The perimeter was quickly secured and the SPVM confirms that no threat has been detected and no injuries are reported.
The evacuees are being directed to a place where investigators will take their statement. A team of CIUSS social workers is also on hand to support them as needed.
An investigation will follow regarding the call behind this important police force deployment.
Related Products
Other Products
Some external links on this page are affiliate links, if you click on our affiliate links and make a purchase we might receive a commission.