Arma 4 precursor Arma Reforger released in early access for PC and Xbox
"It is a standalone, multiplayer sandbox and glimpse of things to come"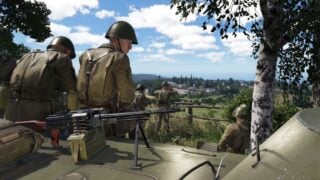 Bohemia Interactive has announced Arma 4 and released a standalone precursor called Arma Reforger in early access.
Confirming a recent leak, the studio used a live stream on Tuesday to reveal its plans for the future of the tactical military shooter series, which hadn't seen a new mainline entry since 2013's Arma 3.
Arma Reforger is an appetiser designed to establish the key elements planned for the upcoming sequel and to introduce the franchise to consoles for the first time.
Arma Reforger – Announcement Trailer
The military simulation takes place in a Cold War environment set in 1989, with players battling as either US or Soviet forces on the fictional mid-Atlantic island of Everon, which spans 52km².
Arma Reforger is available now in Steam Early Access and Xbox Game Preview for Series X/S, priced at $29.99 / £24.99.
"Arma Reforger marks a first foray into the Arma franchise with the all new Enfusion engine; it is a standalone, multiplayer sandbox and glimpse of things to come," according to an official FAQ.
"But more than that, it is a platform to empower players. An invitation to influence the future of the series. Through the Conflict and Game Master game modes, you will have the chance to re-explore the island of Everon, faithfully recreated from the idyllic terrain that first appeared in Arma: Cold War Assault.
"Although a separate enterprise, Arma Reforger is also a stepping stone towards Arma 4.
"The environment, historical context, and all of the assets, as well as our modding tools and features, will all be redeployed for the next Arma instalment, alongside a slew of extra content. Arma 4 however, will release as an independent title and will build on all the lessons learned from Arma Reforger."