Arma 3 is being used to spread fake news about the Israel-Palestine conflict
Bohemia Interactive thanks fans for helping tackle the issue on social media platforms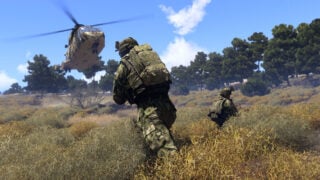 Bohemia Interactive has said it's aware that Arma 3 is once again being used to spread fake news about real-life conflicts.
As has been the case with the Russian-Ukraine war, some social media users are attempting to pass off Arma 3 videos as real footage of the Israel-Palestine conflict.
"It's disheartening for us to see the game we all love being used in this way," said independent Czech studio Bohemia.
"While we have found ways to tackle this issue somewhat effectively by closely cooperating with leading fact-checking agencies, sadly we can't mitigate it entirely.
"We can see many of you actively helping debunk such videos on various social media platforms, and we thank you for this."
While Arma 3 takes place in a fictional conflict in 2035, it offers a set of modding tools that allow users to create and share custom military scenarios, weapons, vehicles and game modes.
According to Bohemia, there are currently over 20,000 Arma 3 mods available to download via the Steam Workshop.
Earlier this week, a video showing two helicopters being downed by missiles began circulating on Twitter alongside claims that it showed real footage of Israeli helicopters being shot down by Hamas forces.
However, Reuters traced the video (viewable above) to a YouTube account, where it had been published days before Hamas launched a surprise attack on Israel from Gaza on October 7.
Bohemia previously published a blog which includes a list of checks that can be used to help distinguish in-game videos from real-world footage.