Arkham Origins studio teases new Batman game
Unannounced game could be related to Court of Owls storyline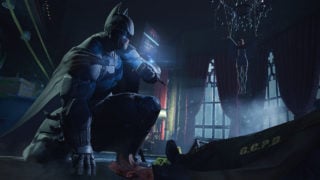 WB Games Montreal, developer of 2013's Batman Arkham Origins, is teasing a new game in the series.
In a tweet posted on Monday, the developer teased several logos along with the text, "Capture the Knight."
Batman comics writer Scott Snyder later retweeted the post and suggested it was related to the Court of Owls storyline. The tweet was eventually deleted, but not before it was captured by Resetera.
The Court of Owls story, created by Snyder, features a secret society which kidnaps child performers from the circus and trains them into assassins, known as Talons.
The Court of Owls' Talon assassin was featured as a playable character in 2018's Lego DC Super-Villains.
It's possible the developer could be teasing an unveiling on either Xbox or PlayStation's live stream events planned for Tuesday, September 24.
An ongoing Epic Games store promotion is offering six free Batman games this week. Epic has also reportedly released free Batman Arkham Collection DLC, after the trilogy was made available to users at no cost without any add-on packs included.