Arkane's Deathloop debuts for PS5 and PC holiday 2020
Dishonored studio's upcoming title gets gameplay reveal trailer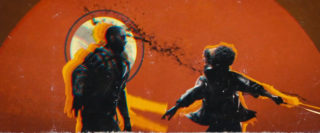 Arkane Lyon's Deathloop will be released for PlayStation 5 and PC this holiday, with an Xbox Series X release expected at a later date.
Announced at E3 2019, the first-person shooter takes place on a lawless island called Blackreef.
Its central mechanic is the ability to replay sequences in order to approach situations in different ways.
Players take on the role of assassin Colt, who's stuck in a time loop which sees him wake up on the same beach each day to find he's the subject of an island-wide manhunt.
In order to break the loop he must use weapons and supernatural abilities to take out eight targets before the clock strikes midnight.
However, there's also a rival assassin locked in the time loop called Juliana. Her job is to protect the loop by eliminating Colt.
An optional multiplayer element will enable you to step into Juliana's shoes and invade other players' games.
"The focus is on the campaign and the story," game director Dinga Bakaba told PlayStation Blog. "And that campaign can be played with Julianna controlled only by the AI, or – and this is our recommendation – by a mix of A.I. and random players to experience the range of unpredictability and chaos that Julianna is capable of."