Apple Arcade adds 5 new games
$5/£5 subscription service can be sampled free for one month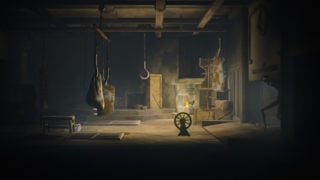 Apple has added five new games to its recently launched Apple Arcade subscription service.
The new titles, which are listed below with official descriptions and where possible trailers, are atmospheric platformer Stela, puzzle platformer Inmost, action racer ShockRods, strategy title Decoherence, and music action game Mind Symphony.
Apple Arcade launched in September priced at $4.99/£4.99, although new users can sample the subscription service free for one month. It offers unlimited access to over 100 new games rolling out this autumn for iPhone, iPad, Mac and Apple TV.
Apple Arcade games won't be available on any other mobile platform or in any other subscription service. Every title is playable offline and none feature advertisements or microtransactions.
Stela (Skybox Labs)

Stela is a cinematic, atmospheric platformer about a young woman witnessing the final days of a mysterious ancient world. Overcome daunting challenges, treacherous terrain, and gargantuan beasts while traversing a decaying land. Manipulate the environment to solve elaborate puzzles and creep past dangerous creatures under the cover of muted landscapes, all set to an original soundtrack. Survive sweeping environments including mysterious towns, haunting forests, and massive subterranean ruins brought to life in an atmospheric experience.

A Knight sworn to the forces of darkness. A creature which feeds on pain. A young girl all alone. One interconnecting tale of suffering, sacrifice, and the family in the middle of it all. INMOST is an atmospheric, story-driven puzzle platformer, following three playable characters within one dark, interconnecting story. In an old abandoned castle, you'll need to explore every nook and cranny, avoid detection, slice your way through enemies and spring deadly traps in order to escape the evil that lurks within.

ShockRods (Stainless Games)

ShockRods is a very fast and furiously fun winner-takes-all action racer. Whether playing multiplayer with friends or solo against bots, the goal of the game is to score points and achieve your objectives at any cost. ShockRods features classic game modes like Deathmatch, Team Deathmatch and Capture the Flag as well as signature modes like Shockball and Golden Ram. Jump, dodge, shoot and deliver maximum destruction as you drive your ShockRod to VICTORY!

Decoherence (Efecto+Rocket)

Build robots from a wide variety of components. Plan a strategy to carry you to victory. Fight as a pilot alongside your bots against an opponent in exciting PvP matches, or test your mettle in the Entropy Tribunals, the single-player experience where you'll be continually tested, but thoroughly rewarded for your performance. Customize your bots and assign them specific commands to carry out your strategy. Pilot your creations and adapt to the chaos of the matches. Manage unpredictability. The obstacle layout within arenas is never the same, so plan carefully, but remain adaptable as anything can happen during the match. More of a lone wolf? Jump into the Entropy Tribunals and have a go at the single player mode, in which you're continually tested but thoroughly rewarded for your performance!

Mind Symphony (Rogue Games)

Experience music and gameplay that emotionally and mentally impact you. Mind Symphony sets unique gameplay to musical tracks, creating an experience that makes you feel better. "Release" mode is where enemies and attacks are timed to the music. The intensity increases as you increase your score, creating an emergent interaction with the song. "Calm" mode focuses on the melody by matching the timing of the major melodic point for a soothing experience.