Apple adds 20 new Apple Arcade games, including a TMNT rogue-lite and What the Golf sequel
The new titles also include a new city-building game by former SimCity developers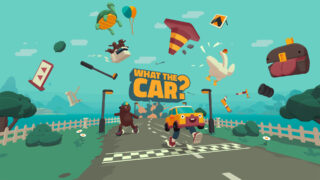 Apple has significantly boosted its Apple Arcade offering today by adding 20 new games to the subscription service.
Typically, one or two new games are added to Apple Arcade each week, so it's unusual to see 20 being added simultaneously.
Of the new additions, four are completely new games exclusive to Apple Arcade, and the other 16 are existing App Store games that are critically acclaimed but usually have fees or ads.
Their addition to Apple Arcade removes these, meaning subscribers can play them without worrying about up-front costs, microtransactions or ads getting in the way.
The four brand new games added to the service today are:
Teenage Mutant Ninja Turtles: Splintered Fate – a TMNT rogue-lite with co-op support for up to four players
What the Car? – the third game from the studio behind What the Golf? and What the Bat?, where players control a car with human legs
Disney SpellStruck – a word game from the co-creator of Words with Friends, featuring a single-player adventure and a multiplayer versus mode
Cityscapes: Sim Builder – a city building game from Magic Fuel Games, a studio consisting partly of former Maxis (SimCity, The Sims) developers
These are joined by the following 16 games, which will be added to the 'App Store Greats' category.
These are '+' editions of the game, which means they're bespoke versions of existing App Store games with their price, microtransactions and ads removed:
Chess Universe+
Disney Colouring World+
Disney Getaway Blast+
Farming Simulator 20+
Getting Over It+
Hill Climb Racing+
Iron Marines+
Kingdom Two Crowns+
Limbo+
My Town Home: Family Games+
Octodad: Dadliest Catch+
PPKP+
Snake.io+
Temple Run+
Time Locker+
Very Little Nightmares+
Apple Arcade launched in 2019 and lets iPhone, iPad, Apple TV and Mac users access over 200 games for a monthly cost of $4.99 / £4.99.
It's also part of the Apple One plan, which lets players access Apple Arcade, Apple Music, Apple TV+ and increased iCloud storage for a reduced monthly fee (compared to subscribing to each service separately).