Apex Legends Mobile targets full launch in summer 2022
Pre-registration for the game is now available on Android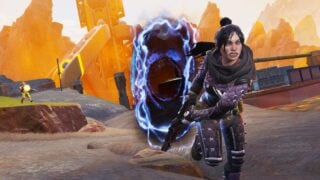 Respawn is aiming to fully launch Apex Legends Mobile worldwide this summer.
The news was revealed this week as Android pre-registration for the title was opened up in more regions.
Over 7.5 million players have already registered for the game, which soft launched in 10 countries last week.
Apex Legends Mobile: Pre-Registration Trailer
"When you pre-register for Apex Legends Mobile, you'll be notified when the title is available in your region," Respawn said. "At present, we're hopeful for a full launch this summer."
It has also released a new trailer for the game, which is viewable above.
Apex Legends Mobile is being developed by a dedicated team at Respawn in conjunction with Tencent's Lightspeed & Quantum Studios, which is the group of developers behind PUBG Mobile.
Like Apex Legends for console and PC, the mobile title will be free-to-play and won't include paid items that offer a gameplay advantage. It will have its own battle passes, collectible cosmetics and unique unlockables.
"We've worked hard with Lightspeed and Quantum Studios to expand the world of Apex Legends with new mobile-first legends, maps, gameplay, modes, progression and live events," Respawn said.
Apex Legends Mobile Android minimum requirements
Soc: Snapdragon 435/ Hisilicon Kirin 650/ Mediatek Helio P20/ Exynos 7420
Android 6.0
Open GL 3.1 or higher
4 GB free space
At least 2 GB RAM
Apex Legends Mobile iOS minimum requirements
iPhone 6S or later
OS version: 11.0 or later
CPU: A9
4 GB free space
At least 2 GB RAM