Apex Legends has revealed Season 11's new island map
Escape launches on November 2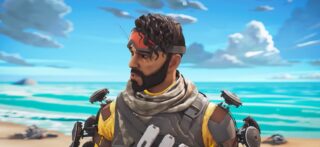 Respawn has revealed Apex Legends' fourth and largest map.
The game's new island map, which is showcased in the trailer below, will launch alongside Apex Legends Season 11, Escape, on November 2.
The map's existence was previously revealed by dataminers who claimed the Season 11 update could introduce a new 'Tropic Island' map.
Apex Legends: Escape Launch Trailer
They suggested the new map could be set on the planet Gaea and play home to Carthage spiders "as a persistent map feature and threat".
Respawn previously released brand new Apex Legends maps in the form of World's Edge in Season 3 and Olympus in Season 7.
Escape will also introduce a new playable hero in the form of Ash, who first appeared as an antagonist in Titanfall 2 and in lore serves as the overseer of Apex's Arenas mode.
"Ash is a simulacrum made from the woman who once was Dr. Ashleigh Reid," EA says. "A trace of Leigh still remains within Ash, igniting its own connections to another Doctor in the Arena."
Titanfall's flexible C.A.R. SMG will also be added as a new Apex Legends weapon in Season 11.
Respawn confirmed in August that it's still planning to release a next-gen update for Apex Legends, but said it wasn't yet ready to commit to a launch window.