Apex Legends' cross-play won't automatically include PC players
Engineer claims feature will limit automatic inclusion of PC players for balancing reasons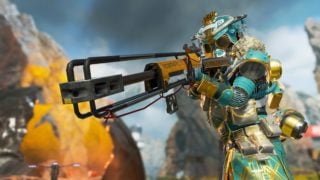 Apex Legends' cross-play feature will limit automatic inclusion of PC players for balancing reasons.
That's according to Respawn Entertainment engineer Jake Smullin, who wrote on TikTok this weekend (via Wccftech) that PC players will only be included in cross-play matches if players have a teammate using the platform.
As well as being able to use mouse and keyboard, PC players can benefit from far higher frame rates than console players, potentially offering an advantage in matches.
"Wanted to clear something up about Apex Legends cross-play," Smullin wrote. "You will only be in PC crossplay lobbies if you have a PC player on your team."
He added: "Have been seeing lots of console players worrying about this, but don't. Everyone should be excited. So no more 'not crossplay, PC is gonna dominate us'."
Apex Legends cross-play is set to release in fall/autumn 2020, allowing players on Xbox One, PS4, Origin, Steam and Switch to play together.
Apex's Nintendo Switch and Steam versions were announced during Electronic Arts' EA Play showcase in June. A mobile version will also release this year.
During its earnings call in October 2019, EA claimed Apex Legends had attracted 70 million players.